Tim Cook Says Apple Products 'Change the World' and Aren't Priced Just 'For the Rich'
Apple has ranked third on Fortune's annual list of companies that "change the world" based on the social impact of their core businesses, and CEO Tim Cook sat down for a related interview with executive editor Adam Lashinsky.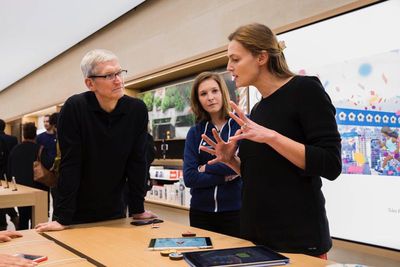 Cook agreed that Apple has changed the world, primarily through its products, which simply enable people to accomplish more.
I think the No. 1 way Apple changes the world is through our products. We make products for people that are tools to enable them to do things that they couldn't otherwise do—to enable them to create or learn or teach or play. Or do something really wonderful.
He added that Apple has also changed the world through environmentalism, education, and advocacy for human rights, privacy, and philanthropy.
When asked why Apple doesn't run a charitable foundation, Cook said having a "separate thing" with a separate board of directors "wouldn't be Apple."
My view, we do a lot more good with a 120,000 people behind it than we would putting 12 people over in a corner to make decisions. I'm not criticizing people that do that. I think maybe they found a way and maybe it's great. But it wouldn't be Apple.
Cook mentioned Apple's free Swift Playgrounds curriculum as an example of how its products enable people to learn and create.
… And the whole concept of Swift is you make a coding language that has the ease of use of our products. And so everybody can learn it. Yet, it's powerful enough to write the most complex apps that you'd ever want to dream up. And then we thought, well, what else can we do, and so we came out with Swift Playgrounds, a curriculum for say K4, K5, sort of in that age range. And that began to take off. And so then we took a step back and we made a bigger program for all of K–12 called "Everyone Can Code."
Those people who learn to code may eventually become developers. Cook reiterated that the App Store economy supports millions of jobs.
Cook later disagreed with Lashinsky's opinion that Apple's business strategy is to "make premium-priced, high-margin, high-end products."
Well it's not high margin. I wouldn't use that word. There's a lot of companies that have much higher margins. We price for the value of our products. And we try to make the very best products. And that means we don't make commodity kind of products. And we don't disparage people that do; it's a fine business model. But it's not the business that we're in.

But if you look across our product lines, you can buy an iPad today for under $300. You can buy an iPhone, depending upon which one you select, for in that same kind of ballpark. And so these are not for the rich. We obviously wouldn't have over a billion products that are in our active installed base if we were making them for the rich because that's a sizable number no matter who's looking at the numbers.
Cook also hinted that Apple has "much more" to accomplish in the health-related area, and hinted at future products or services to come.
There's much more in the health area. There's a lot of stuff that I can't tell you about that we're working on, some of which it's clear there's a commercial business there. And some of it it's clear there's not. And some of it it's not clear. I do think it's a big area for Apple's future.
Full Interview: Tim Cook on How Apple Champions the Environment, Education, and Health Care via Fortune