iOS 11 GM Leak Reveals Details on Face ID, Apple Pay, Wireless Charging, and A11 Chip in iPhone X
Over the weekend, the iOS 11 golden master software leaked out, revealing a wealth of details about Apple's unreleased devices just days ahead of their official unveiling.
New tidbits continue to come to light as developers dig through the software, and today we're hearing details on the new A11 processor in Apple's upcoming iPhone lineup, the Apple TV's resolution and 4K streaming requirements, and how Apple Pay will work with Face ID. There's also a confirmation that wireless charging is coming.
The iPhone X includes a new Face ID facial recognition system that replaces Touch ID. There have been some questions about how Apple Pay will work with the feature, and a new discovery from developer Jeffrey Grossman provides some clues. It seems the iPhone X will authenticate a payment using facial recognition, with payment confirmed using a double click on the side button (sleep/wake button) of the device.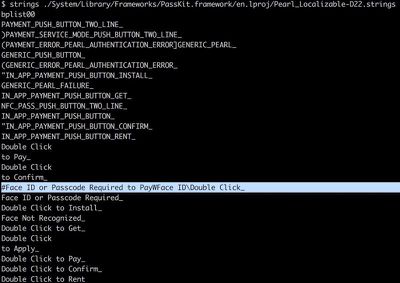 There's also a reference to Face ID on both the iPhone and the iPad and iPod touch, suggesting Apple could potentially bring Face ID to future iPads and iPod touch models.


The A11 Fusion chip expected to be built into the iPhone X, the iPhone 8, and the iPhone 8 Plus is a 4+2 core device, according to developer Steve Troughton-Smith and Twitter user Longhorn. It appears two of the cores are higher-power cores and four of the cores are lower-power cores, though this is not entirely clear (earlier it was suggested there were four higher-power cores and two lower-power cores). Either way, the arrangement is similar to the A10 chip, which is a quad-core SoC with two high-performance cores and two energy efficient cores.
references to wireless charging
in the iPhone 11 GM, confirming a new wireless charging feature. The software doesn't include many details on how wireless charging will work, but rumors have suggested Apple will use inductive wireless charging, which is how the Apple Watch is charged.


Apple's wireless charging is said to use the Qi standard, and it will be enabled through inductive charging accessories. Apple is planning to allow third-party manufacturers to create Qi-based charging accessories, but Made for iPhone certification may be required. Rumors suggest Apple devices will support 7.5 watts of power when charging inductively, and the wireless charging feature is expected to be included in all Apple iPhones coming this year.
Finally, developer Steve Troughton-Smith yesterday discovered the upcoming 4K Apple TV will render natively at 2160p and will support several color formats, including HDR10 and Dolby Vision. 4K streaming on the device will also require a minimum of a 15Mb/s connection.
confirmed Apple's naming plans
(we'll see an OLED iPhone X, an iPhone 8, and an iPhone 8 Plus), revealed the
Face ID setup process
, given us a look at
the split status bar
on the iPhone X, hinted at
new animated "Animoji"
that will be based on user facial expression, confirmed
an LTE Apple Watch
, and
more
.
Update: The A11 section of this post was updated with new details -- it appears the A11 is a 6-core chip with two high power cores and four low power cores.