Details Emerge Regarding 'Face ID' Setup Process on iPhone X
Facial recognition has been rumored to be replacing Touch ID entirely on the OLED iPhone X, and today developer Guilherme Rambo shared a few glimpses into the setup process of the all-new "Face ID" feature.
Rambo tweeted the settings and preference screen for Face ID, where you can choose to use Face ID for iPhone Unlock, iTunes and App Store, and Safari Autofill. Apple Pay is missing from the page, but Rambo noted that it's most likely because he's using a Brazilian Apple ID and Apple Pay isn't available in Brazil.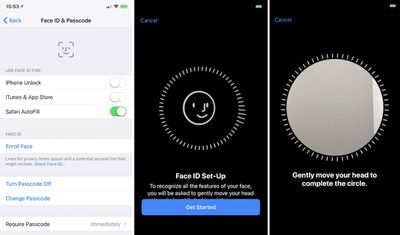 Once you tap "Enroll Face," iOS will ask you to gently move your head around in various directions and as you do a piece of the user interface will respond by filling in a circle surrounding your face. Once the scan is complete, your face will be enrolled in Apple's new biometric security software and will be able to
unlock the iPhone X, authenticate the purchase of apps, and more
.
In another video, Rambo recorded a separate piece of UI related to Face ID that he described as "authenticating with Face ID." This is expected to be another step in Face ID's setup process, but Rambo pointed out that he's "not sure" there will be a camera preview in the final version of the software. He did say that the smiley face glyph and rotating sphere animation will be parts of Face ID to some extent.
In a series of leaks related to the HomePod firmware that happened earlier in August, a few strings of code
suggested
that the iPhone X will be able to scan your face even when the device is lying flat on a table. Apple is preparing Face ID to be "quicker, more secure, and more accurate than Touch ID,"
according to Mark Gurman
, and the biometric security feature is expected to be one of the flagship features focused on during the
September 12 event keynote
.