In the run-up to the official release of iOS 11 this month, much of Apple's focus has been on touted improvements coming to its built-in virtual assistant, Siri. Apart from becoming more naturally spoken, Siri will allow users to get real-time translation between select languages and is said to boast a greater understanding of the user's needs dependent on circumstance and time of day, with the AI assistant's learning synced across devices.
Apple is hoping these and other improvements will go some way to quashing negative perceptions of Siri, which have led some iOS users to turn to rival assistants for a better experience. One of those rivals is Google Assistant, which as well as powering Google's Pixel smartphones is integrated into Google's iOS Search app. In general tests, Google Assistant consistently beats Siri in areas including language comprehension, responsiveness, and answer accuracy. But like Apple, Google's AI team is not resting on its laurels, and this week at Google Developer Days, the company demoed some of the new features it is working to bring to its flagship assistant in the near future.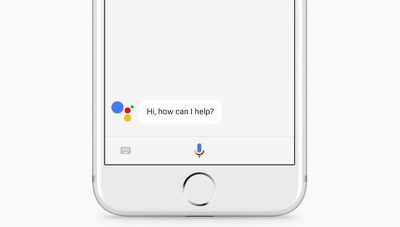 Like Siri, one of the major additions coming to Google Assistant is a new translator mode, which once activated by the user with the phrase "OK Google, be my [specify language] translator", repeats everything that is subsequently said in the requested language both vocally and visually. While standard translation as such isn't new to Google Assistant, the new way of interacting with it is designed to be more useful when users are traveling abroad.
Another improvement coming to the virtual AI is better contextual understanding of questions. For example, in the GDD stage demonstration, Google Assistant is first asked to show pictures of Thomas, and the AI returns images of Thomas the Tank Engine. Next, responding to the phrase "Bayern Munich team roster", the Assistant returns details of the German soccer team. Then it is once more asked for "pictures of Thomas", but this time the Assistant pulls up pictures of Bayern soccer player Thomas Müller, putting the results correctly in context to the rolling set of queries.
In a subsequent example, the audience is shown how Google Assistant can help them remember the name of a movie that's on the tip of their tongue. The stage demonstrator asks, "What is the name of the movie where Tom Cruise acts in it and he plays pool and while he plays pool he dances". With little hesitation, The Color of Money appears on the screen and the Assistant relates further details about the film.
In addition to these new features, Google said its virtual assistant can now respond to questions faster and is able to understand a user's voice more accurately in noisy environments. It also claimed that the AI now has deeper integration with Google Search, which should enable it to provide more detailed answers to queries.
It's unclear which of these enhancements will make it over to Google's iOS Search app, or whether the company makes some of the features exclusive to Android. Whatever its plans, the GDD demonstrations show just how much the virtual assistant wars are hotting up. And with Google Assistant now showing up in third-party smart speaker devices, there's every indication that Siri in iOS 11 – and in Apple's upcoming HomePod speaker – will have plenty of competition in the virtual assistant space.