KGI: All iPhone X Colors Will Have Black Bezels to Ensure 'Better Aesthetic Design'
KGI Securities analyst Ming-Chi Kuo has a new prediction about how Apple will design the front of the "iPhone X." Kuo believes that no matter the color of the device's casing, the front bezels will be black. This will ensure "better aesthetic design," hiding the front-facing camera sensors on the iPhone X's notch, which would otherwise stand out as little black dots on a white bezel.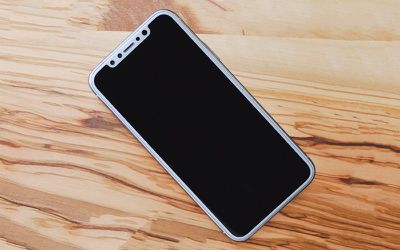 This means that instead of white bezels on a silver or gold iPhone X (as seen above), Kuo argues that black bezels on every version of the new smartphone will better blend into the 5.8-inch OLED display and sensor notch. The iPhone X is expected to come in a limited number of colors, including silver, "blush gold", and black.
The same report highlights the "biggest selling point" of the new OLED iPhone X -- 3D sensing -- including a break down of all the components that will be working together on the front-facing sensor bar. From left to right there's the structured light receiver, proximity sensor, ambient light sensor, front camera, and structured light transmitter. Kuo noted that the ambient light sensor is not directly required for 3D sensing, although it can help to improve 3D sensing performance in some capacity.
The report further breaks down these sensors, and offers an analysis of the source of each module. The structured light transmitter module was made by LG Innotek, includes a vertical-cavity surface-emitting laser designed by Lumentum, and has half a dozen other individual components: epitaxial wafers, diffractive optical element, wafer level optical, filter, and active alignment equipment.
The report closes with predictions for some of the most popular and "important" applications for 3D sensing: using facial recognition software to replace fingerprint recognition, and a "better selfie user experience." The official reveal of the iPhone X is just three days away, with Apple's event in Cupertino set to kick off at 10:00 a.m. local time on September 12.