All 2017 iPhones to Come in Only Three Colors, Launch Simultaneously in September
Apple's upcoming 2017 iPhones, including the "iPhone 8," the iPhone 7s, and the iPhone 7s Plus, will be available in just three colors -- black, silver, and gold -- according to a new investor note shared today by respectable KGI Securities analyst Ming-Chi Kuo.
Kuo previously said the iPhone 8 would be available in a limited number of colors, but made no mention of its two companion devices. His three color list seemingly matches up with an iPhone 8 dummy model leak that we saw earlier this week, but one of the dummy model shades displayed was more of a copper than a gold, so it's not clear if it's an accurate depiction of the colors we can expect.
If Apple does plan on introducing the iPhone in just three hues this year, we won't be seeing rose gold or the multiple shades of black that were available in the iPhone 7.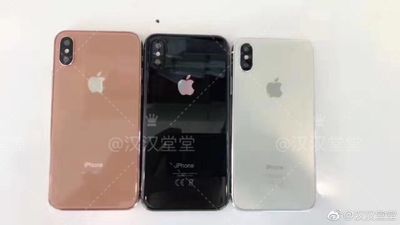 According to Kuo, all three iPhone models expected in 2017 will also support fast charging, but he warns that consumers may need to purchase a Type-C power adapter to enable faster charging. The current iPad Pro has a similar feature -- it uses the MacBook's $49 29W USB-C power adapter for fast charging.
Kuo now believes Apple will begin production verification tests on the iPhone 8 in late August, leading to mass production in mid-September, which is earlier than Kuo's previous estimates that suggested mass production might not begin until the middle of October.
With mass production starting earlier, Kuo expects Apple will announce all three iPhone models simultaneously in September, with plans to launch them all on the same date. The OLED version will be in short supply, though, with Kuo forecasting shipments of 2-4 million units in the third quarter.
The OLED version will be in short supply as we forecast shipments in 3Q17 will be 2-4mn units or less. We do not think production of the OLED iPhone will pick up substantially before 4Q17; and given strong demand, tight supply may persist until 1Q18 before improving much.
Though a September launch is expected, supplies of the iPhone 8 may be constrained until the first quarter of 2018 due to an expected high demand. Still, Kuo's latest prediction is a rosier outlook than we've seen in the past, as some former rumors suggested Apple could potentially announce the iPhone 8 and then delay its launch until October or November.