As Apple's original Apple Music deals with record labels begin expiring, Apple has been pursuing lower streaming rates as it negotiates new deals. Apple recently reached a deal with Warner Music Group, reports Bloomberg, and the Cupertino company was indeed able to secure a lower rate.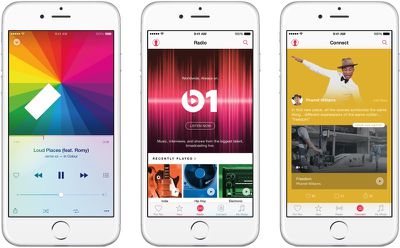 Warner Music Group will provide Apple with a catalog that includes Ed Sheeran, the Red Hot Chili Peppers, Bruno Mars, and more, for iTunes, the online store, and Apple Music. Apple will be paying Warner Music Group a smaller percentage of sales from Apple Music subscribers than it did in its original deal. Apple is also close to a deal with Sony Music Entertainment, but is still negotiating with Universal Music Group.
Large technology companies and music rights holders are establishing a framework this year for how to share proceeds from on-demand streaming, now the dominant source of sales for the record business in the U.S. Music rights holders are willing to accept a slightly smaller share of the sales from on-demand services, provided those services continue to sign up paying subscribers at a high rate.
Apple began aiming for a lower rate after Spotify was able to secure a rate reduction. Since 2015, Apple has been paying labels 58 percent of revenue from Apple Music subscribers, while Spotify was paying 52 percent. Apple is now said to be considering providing labels with a 55 percent cut, with that number decreasing should Apple meet certain subscriber number targets.
Since its debut in June of 2015, Apple Music has seen steady growth, undoubtedly giving the company an upper hand when negotiating new deals with labels. As of June 2017, Apple Music had 27 million paying subscribers.