Apple Wins 2017 Technical/Engineering Emmy for Siri Integration on Apple TV
The National Academy of Television Arts and Sciences today announced the recipients of the 69th annual Technology & Engineering Emmy Awards, with Apple winning an award in the "Contextual Voice Navigation for Discovering and Interacting with TV Content" category.
Apple received the award for the Siri voice integration built into the fourth-generation Apple TV, which allows users to search for content using voice-based commands. Other winners in the same category include Comcast, Universal Electronics (UEI), and Nuance Dragon TV.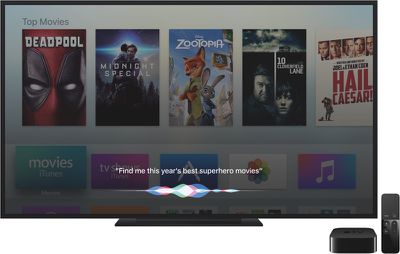 Siri has been available on Apple TV since 2015, which is when the fourth-generation set-top box with tvOS became available for purchase. Siri has a range of functions on the device, ranging from TV show/movie/actor/topic search capabilities to features like a vocal rewind option that allows users to do things like ask "What did she say?" to jump back 15 seconds and temporarily turn on subtitles.
Siri can open apps and games, respond to typical commands for information about sports scores, movie times, weather, and more, and Siri can answer questions about movies and TV shows. "Who directed this movie?" and "Who stars in this movie?" are just a couple of examples of the kinds of queries Siri can respond to. Siri can even answer complex topic-based requests, like "Find comedies from the 80s starring Chevy Chase" or "Find movies for kids from the 90s."


Award recipients will be honored at the Technology & Engineering Emmy Awards at the National Association of Broadcasters on Sunday, April 8, 2018 in Las Vegas, Nevada.
Apple plans to introduce a new fifth-generation Apple TV at its September iPhone-centric event, believed to be taking place on the 12th of the month. The fifth-generation Apple TV will continue featuring Siri support, and could even introduce new Siri-related features.