Apple CEO Tim Cook is on the road in the weeks ahead of the iPhone 8 reveal, expected sometime in early-to-mid September. In a tweet posted this morning, Cook shared a visit he made in Cincinnati to CTS (Cincinnati Test Systems), where he met and discussed with the teams who build leak detection equipment for Apple.
CTS builds leak detection hardware for a variety of industries, including automotive and medical, collecting data that provides pressure decay, vacuum decay, mass flow, helium leak, and other leak detection resources for its customers. The company likely does the same for Apple and its suppliers, providing quality assurance for Apple during the manufacturing stages of its devices.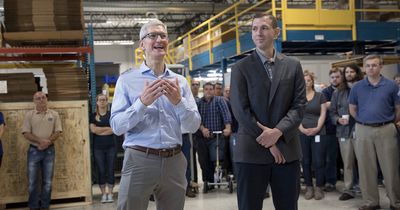 It's unclear at this time where Cook might be heading next, or how his travels might be tied into the reveal of the iPhone 8, iPhone 7s, and iPhone 7s Plus next month. We're expecting event invites to go out very soon, especially if Apple decides to hold the reveal within the first week of September.
In a report yesterday that sourced French telephone carriers, Mac4Ever said that the event would be held in the second week of the month, on September 12, and the iPhone 8 would then launch on September 22, but the official dates are still unconfirmed.
Update: Tim Cook will also visit Des Moines today, where he will attend a meeting focused on Apple's just-announced data center in Waukee, Iowa.