Code42, the company behind the popular cloud backup solution CrashPlan, today announced that it is sunsetting its CrashPlan for Home subscription options in the near future. Starting today, Code42 will no longer offer or renew CrashPlan for Home subscriptions.
In a video message, Code42 CEO Joe Payne said the company is ending its personal subscription options to focus solely on the business and organization market.
For existing Home customers, Code42 suggests they purchase a
CrashPlan for Small Business plan
or switch over to
Carbonite
, another backup service.
Customers who choose to use CrashPlan for Small Business can transfer their data within minutes. A Small Business plan is priced at $10 per month per device for unlimited upload space, but current CrashPlan for Home subscribers can get a 75 percent discount for the next 12 months. Code42 is allowing users to migrate cloud backups that are 5TB or smaller.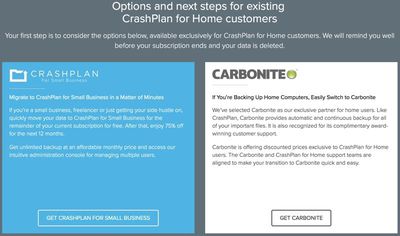 Customers who choose Carbonite can get 50 percent off of select Carbonite plans. Carbonite pricing starts at $60 per year for unlimited storage on a single device.
Current CrashPlan for Home subscribers can continue using CrashPlan until their subscriptions expire, but once that happens, they will need to choose a new backup solution. CrashPlan subscriptions are non-refundable, so customers will want to wait for their subscriptions to end before transferring to a new plan or service.
Code42 is earmarking October 22, 2018 as the end-of-support date for CrashPlan Home, with the company planning to honor all subscriptions until that date. Subscribers who have subscriptions that extend beyond October 22, 2018 will see their accounts upgraded to a CrashPlan for Small Business account with Code42 promising to send along additional information on the upgrade process before the service is discontinued.