A hidden web page has been discovered on Apple servers containing a job description for a "talented engineer" to work on a "critical infrastructure component" and an invitation to apply for the position at the Cupertino-based company.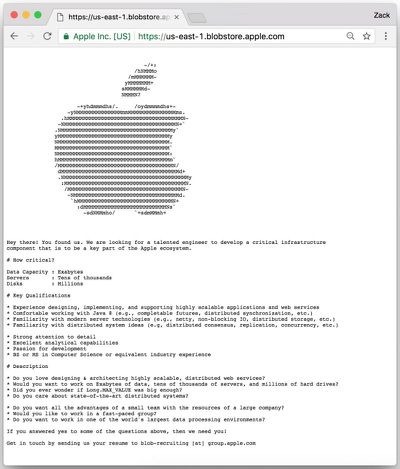 The web page, originally located at us-west-1.blobstore.apple.com but since taken down, was discovered on Saturday by ZDNet's Zach Whittaker and describes a role within Apple that involves "exabytes" of data and "tens of thousands" of servers, as well as "millions" of disks. The introductory text reads:

Hey there! You found us. We are looking for a talented engineer to develop a critical infrastructure component that is to be a key part of the Apple ecosystem.
Applicants for the role must have the ability to design and implement scalable apps and web services, and be familiar with Java 8, distributed systems, and modern servers, according to the job description. The exact nature of the job is not given, but given that it relates to web services, it could have iCloud, Apple Music, iTunes or the App Store in mind.
It's unclear when the role was actively being sought, but the fact that it is a hidden page suggests Apple was betting on the possibility that potential candidates for the job would have no difficulties uncovering it.