Apple Aiming to Bring Apple Watch to 23 Million Aetna Subscribers
Apple and Aetna are discussing ways to offer discounted Apple Watch models to millions of consumers with Aetna insurance, reports CNBC. Citing people with knowledge of Apple's plans, the site says Apple and Aetna held discussions last week that included senior officials from Apple, Aetna, and several hospitals.
Aetna already offers a program that provides the Apple Watch at no cost to its 50,000 employees and subsidizes the cost for some subscribers, but the insurance company is said to be negotiating with Apple to offer a free or discounted Apple Watch to all Aetna members.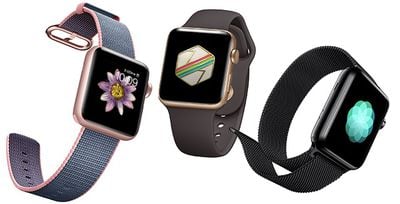 Apple's Myoung Cha, who has the title "special projects, health," led the discussions, said one of the people. The move by Aetna is part of its push to increase customer interest in a healthier lifestyle and a better tracking of diet, said one of the people.
Aetna is said to be aiming to implement some kind of program early in 2018, and its goal seems to be an expansion of plans that were announced back in September. At that time, Aetna said it was planning to subsidize the cost of the Apple Watch for large employers and individual customers.
Aetna also said it would develop several iOS health initiatives with "support" from Apple, offering "deeply integrated" health apps for iPhone, iPad, and Apple Watch to Aetna customers.
The company's plan to offer discounted or free Apple Watch models to subscribers comes as Apple is on the verge of introducing a third-generation Apple Watch. Rumors suggest the upcoming device features an LTE chip that allows it to be decoupled from the iPhone and there's also a possibility we'll see a redesign.
We expect to see the third-generation Apple Watch introduced alongside new iPhones in September.