One year ago, Apple began a staunch defense of its proposed data center in Galway County, Ireland, as a group of locals attempted to derail construction by reciting various environmental concerns for the area if Apple successfully built the facility.
The delayed data center was supposed to be met with a decision this week, but now The Irish Times is reporting that a final verdict has been delayed yet again, with the Court Services confirming this week that the case will not be heard until October 12. While there are some residents opposing the data center, there remains a large group fighting with Apple to help bring jobs to the area.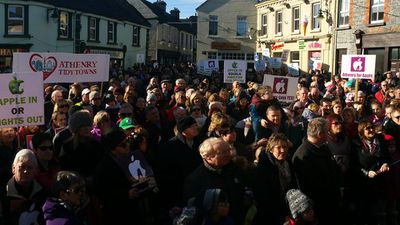 According to local resident Paul Keane, who spoke with
Business Insider
, some of those on Apple's side have "totally lost hope."
But Local resident Paul Keane, who is a member of the Athenry for Apple Facebook group, said: "Some have totally lost hope and more are now more fearful of a complete loss of confidence in investment for the west and long term damage to the country simply because we couldn't get our act together."
The residents against Apple attempted to halt construction last November by claiming that the permission it was granted by independent planning body An Bord Pleanála was invalid. They alleged that An Bord Pleanála didn't perform a proper environmental impact assessment of the proposed data center at Derrydonnell, located on the outskirts of Athenry, where the residents live. Apple successfully asked the High Court to fast-track the case, but a final decision was still set for months later, and now it has been pushed back even further.
When Apple announced the Irish data center in February 2015, it also announced one for Denmark. Construction for that site has completed, and now the center is ready to go live sometime later this year. Around 300 jobs would be created over "multiple phases of construction" at the Irish data center, which would help power Apple's online services across Europe, including iTunes, the App Store, iMessage, Maps, and Siri.