Last November, Adobe previewed its next-generation photo editor, Project Nimbus, which boasts a focus on cloud storage and simplified editing controls, telling users to expect a beta sometime in 2017. Although that beta has yet to arrive, some users of Adobe's Creative Cloud recently had access to an "internal only" download of Project Nimbus on both Mac and Windows devices.
Since a few Creative Cloud users were able to download Project Nimbus, Adobe quickly fixed the leak and confirmed it as an accident: "That morning, we shared Project Nimbus by mistake with a small group of Creative Cloud customers." French site MacGeneration [Google Translate] had a chance to browse Project Nimbus, and shared its thoughts earlier today.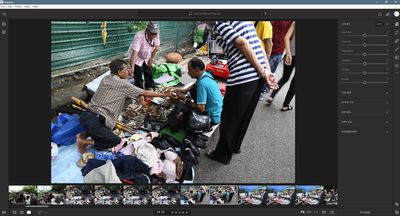 The site described Project Nimbus as a complement to Lightroom, not a replacement, and ultimately said that the interface is "actually much closer to Lightroom for iPad than Lightroom for Mac / Windows." Thanks to half a dozen simplified and "general" editing tools and the ability to transfer edits in the cloud,
MacGeneration
also compared Project Nimbus closely with Apple's iCloud photo library.
Compared to Lightroom, which Nimbus does not replace but complete, the interface is less loaded and there is no segmentation in modules (library, development, printing ...). The editing tools are not all stacked in the right column, there is a palette of tools to the Photoshop which includes half a dozen general tools: Basic tools (light, color, effects, details, optics, geometry); Refraction; Correct; Brush; Linear gradient; Radial gradient; and Options (copy / paste settings, view original, return to original, display histogram, single panel mode, edit in Photoshop).

In the end, Project Nimbus is not a substitute for Lightroom, which should continue to evolve on its own, but an iCloud photo library in Adobe sauce. It remains to be seen whether this new service will be adopted by the usual users of Lightroom and whether it will attract new customers.
The leak provided information on cloud storage included with Project Nimbus, which will give users 1TB of storage in the cloud to facilitate the software's goal of cross-platform editing. During the announcement, Adobe specifically described Project Nimbus as "cloud-native," with non-destructive image edits that are saved across all platforms that the software is available on and that users are signed into.
Last week, Adobe updated Lightroom for iOS, bringing a new selective brush, a details tab, a refreshed interface for the iPad, and enhanced support for features like the Apple Pencil and 3D Touch.