Apple Appoints Deirdre O'Brien to New 'Vice President of People' Role
Apple today announced that it is promoting Deirdre O'Brien to a new head HR role, "vice president of People." O'Brien, who previously served as vice president of Worldwide Sales and Operations, has been at Apple for nearly 30 years.
According to the news release, O'Brien will lead all HR functions, like talent development, recruiting, benefits, compensation, and business support, plus she'll oversee Apple University, where employees are trained. She will be reporting directly to Apple CEO Tim Cook.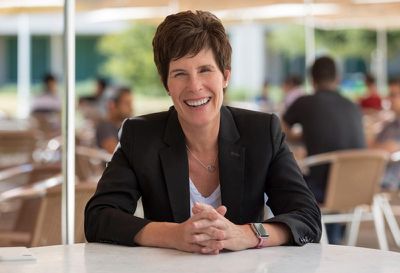 "As long as I've been at Apple, Deirdre has been the glue that bonds our operations, sales, marketing and finance teams to deliver products to our customers," said Tim Cook, Apple's CEO. "Deirdre deeply understands Apple's unique culture and that people join Apple to do the best work of their lives. She is a superb leader and I'm thrilled she will be bringing her experience and talent to this critical role."
O'Brien first joined Apple in 1988 and has had a "key role" in each Apple hardware product launch over the past 20 years. She will start her new position as vice president of People in the fall.
"I love Apple and, like so many of my colleagues, I'm honored to have made it my life's work," said Deirdre. "I'm excited to begin this new chapter, supporting 120,000 incredibly talented people around the world who are motivated to do amazing things every day. It is a privilege to work among such a diverse and talented team, and to help them thrive here at Apple."
Apple has recently taken to announcing high profile hires and promotions on its news site, most recently sharing the hiring of Jamie Erlicht and Zack Van Amburg, two former Sony Pictures executives who will lead Apple's original programming efforts, and the promotion of Isabel Ge Mahe to Managing Director of Greater China.