Panic today announced the launch of Transmit 5, the newest version of its popular Mac-based file transfer app. Transmit 5 is a massive update, introducing an improved UI, new features, additional servers, and a Panic Sync feature.
According to Panic, everything from the core file transfer engine to the "Get Info" experience was entirely rethought, overhauled, and improved, for an even better file management experience.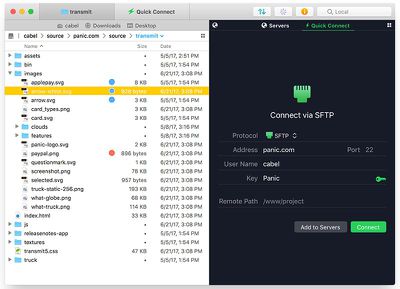 For those unfamiliar with Transmit, it's designed to allow users to upload, download, and manage files on local and remote servers, turning file management into a simple drag-and-drop affair with a clean easy-to-use interface. Transmit 5 works with FTP, SFTP, WebDAV, and S3, and it connects to Backblaze B2, Box, Google Drive, DreamObjects, Dropbox, Microsoft Azure, and Rackspace.
The new version of Transmit also features Panic Sync, designed to offer a quick and safe way to sync sites and keep Panic data up to date across all apps and devices. Panic Sync is part of another major change - Transmit 5's absence from the Mac App Store.
Panic will not be releasing Transmit 5 in the Mac App Store, which, the company explains, is due to its inability to offer a demo through Apple's storefront. "This allows us to distribute a demo which we think is extremely helpful for people considering Transmit," reads an FAQ on the blog post announcing the release.
Panic says the company plans to "constantly re-evaluate" the Mac App Store and hopes to return at some point, presumably if Apple introduces a wider range of features for developers, such as free trials and demos.
Transmit 5 is priced at $35 for the next week, and after that, the price will go up to $45. There is no upgrade discount for customers who have purchased an earlier version of Transmit, but those who purchased Transmit 4 after June 1 can get a free update.
A free trial is available from the Transmit 5 website for those who would like to try Transmit before making a purchase.