Construction progress surrounding Apple Park has been well documented over the past few years, with monthly drone videos providing anyone interested with clear glimpses into Apple's spacious new campus. Less discussed have been the neighborhoods surrounding Apple Park, including how they have been affected by Apple's construction on a campus that measures 2.8 million square feet, spans 176 acres, and will eventually house around 12,000 employees.
A new report by The New York Times this week has focused on the positive and negative outcomes following Apple's announcement of its major new site, which officially began construction in 2013. In the town of Sunnyvale, which sits across the street from Apple Park, as many as 95 development projects have entered planning stages in recent years, while local businesses in Cupertino have pivoted to meet the needs of Apple employees, including a Residence Inn opening in September that will be stocked with Macs for guests.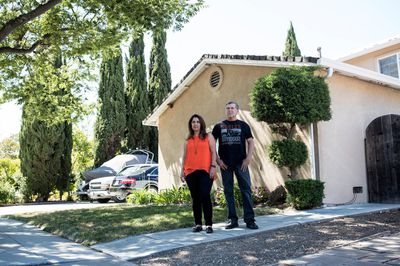 Eventually, onlookers won't be able to see Apple Park's circular "spaceship" building from nearby streets (thanks to
Apple's sourcing of 9,000 trees
coming to Apple Park as the year progresses). Until then, the campus is attracting tourists to come out and take pictures and fly drones over the site. Some who live nearby welcome to boom to businesses and tourism, even allowing tourists to stand outside on their driveways as they pilot drones over Apple Park.
Onlookers snap pictures of the spaceship from the streets. TV helicopters circle above. Amateur photographers ask residents if they can stand on driveways to operate their drones, hoping to get a closer look at Apple Park.

"I just say, 'Hey, go ahead,'" said Ron Nielsen, who lives in Birdland, a Sunnyvale neighborhood across the street from the spaceship. "Why not?"
Residents of nearby neighborhood Birdland have been more critical of Apple's construction, complaining about loud noises early in the morning, unpredictable road closures, unsightly barriers, and construction potholes that have resulted in punctured tires. In response, Apple has tried to appease frustrated residents, going so far as to send carwash certificates to a woman who called the company about her vehicle getting covered in construction dust, and offering to pay for a solution to bottlenecked traffic.

Homestead Road, the thoroughfare that separates Apple Park from Birdland, became its own subject of debate. Cupertino officials wanted to construct a tree-lined median to calm traffic. Apple offered to cover the costs.

But homeowners objected. Residents complained that the island would eliminate one lane, backing up the heavy traffic even more. When 20 or so neighbors approached a Sunnyvale town meeting in solidarity, the city ended up siding with the residents.
Apple hosted over 110 community gatherings when Apple Park was in the design phase, intended to get feedback from residents who would be living near the campus. After the meetings, Apple sent out community mailers five times to around 26,000 households in the area. Apple vice president of real estate and development, Dan Whisenhunt, said that the company continues to respond to community concerns as best it can, "and if the issue is serious enough, I will personally visit to see what is going on."
With all of the increased traffic of businesses, Apple employees, and interested civilians, the value of property in the neighborhoods surrounding Apple Park has also increased. Local real estate agents told The New York Times that in the wake of Apple's plans for the campus being released as far back as 2011, "prices in the area really started to rise." In 2011, a three-bedroom, two-bathroom, 1,400 square-foot house was priced at $750,000, and has since doubled in price.
On average, prices for local homes have increased by 15 to 20 percent each year since 2011, and those bidding on homes in the area offer 20 to 25 percent over the asking price in order to secure real estate.

Birdland is already drawing Apple employees, replacing homeowners who have cashed out to move to quieter regions. Those who remain are realizing that life will not be the same when all 12,000 of the Apple workers go in and come out on a daily basis. People in the neighborhood dread the increased traffic and expect workers to park in front of their homes since there will be fewer available spaces in the company garage.

Apple's answers to concerned residents will continue, Mr. Whisenhunt said. "When you tell people what is upcoming, some of the anxiety they have calms down a lot," he said. And yet, he acknowledged, "you don't make everyone happy."
Although a small number of employees have already moved into Apple Park, construction is expected to continue into the second half of 2017, with buildings like the Steve Jobs Theater predicted to open sometime in the fall. The latest drone videos have captured shots of the lit-up Steve Jobs Theater and historic Glendenning Barn.