Apple Begins Selling Refurbished Apple Pencil for $85
Apple today began selling a certified refurbished Apple Pencil for $85 on its online store in the United States only.
A brand new Apple Pencil costs $99 in the United States, so taking the refurbished route yields a savings of $14.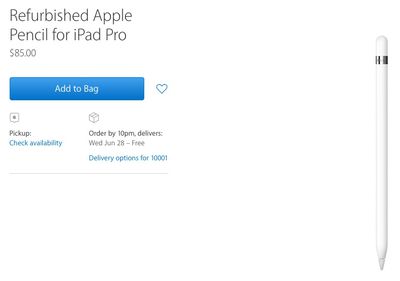 A refurbished Apple Pencil isn't brand new, but Apple says it undergoes a thorough cleaning process and inspection to ensure it meets Apple's quality standards, including full functionality testing. It's then repackaged in a new box with a Lightning adapter, an extra tip, and the appropriate documentation.
Apple Pencil is a stylus designed specifically to work with iPad Pro, giving artists a tool with a level of precision far beyond that of a finger.
Designed to mimic the feel and sensation of using a pen or a pencil, the Apple Pencil has built-in sensors to determine orientation and angle, and to detect a range of forces for pressure-sensitive drawing and writing. Apple has optimized the iPad Pro and iOS to ensure the Apple Pencil has minimal latency.
With iOS 11, iPad Pro users are able to add handwriting and drawings alongside text, and search handwritten notes using Spotlight.
A refurbished Apple Pencil comes with Apple's standard one-year limited hardware warranty covering manufacturing defects.