12-Inch Retina MacBook Receives Mixed Reviews From Early Adopters
Just a few weeks after the 12-inch Retina MacBook became available to order online, a number of early adopters have shared mixed opinions about the notebook within the MacRumors discussion forums. Overall, many users agree that the new MacBook has major design appeal but with too many key compromises, as mentioned by several well-known tech pundits and websites in our review roundup of the notebook.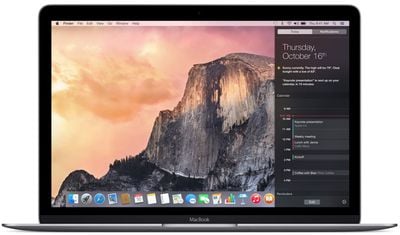 A handful of users within the discussion forums claimed that they regretfully returned their new MacBooks shortly after receiving one because of those compromises, including the frustration of looking for and purchasing USB-C adapters that are needed to connect various Digital AV, VGA or USB devices, peripherals and cables to the single USB-C port on the ultra-slim notebook. The new keyboard and slow performance were also areas of concern for some users. Some responses have been slightly edited for clarity.
MacRumors forum member Audiopablo:
"Took mine back. It was really a wow factor. So light, so beautiful. But in the end, it just wasn't for me. After spending a day trying to hunt down USB-C adapters in Apple stores (weren't available at Best Buy, where I bought mine), I got to thinking about what I loved and what I didn't.

Could I type on my lap with it? Sure and watch the screen jiggle on my soft legs. Turns out a 13" or even 15" model with weight is more stable for me personally. […] Ports is an issue for a user like me. I knew that going in, but I was going to be patient with it. It finally got to me.

But that doesn't mean it isn't for you. I wouldn't mind one instead of the iPads we have, but I'll wait until the price comes down. It just didn't feel like a step into the future for me. It felt like like some steps back from my 13" Retina MacBook Pro or 15" MacBook Pro. Gone were the Apple touches I felt were worth the premium. I know I'll catch flack for this, but it felt like an iPad running OS X with a great trackpad and great keyboard for light typing. But then I started trying to touch the screen."
MacRumors forum member Newellj:
"With some regret I returned my Retina MacBook over the weekend. The two reasons I ultimately returned it were that the keyboard didn't agree with me and, after some practical thinking, I realized that there were going to be issues managing using two laptops concurrently.

The keyboard — I expected to like it or at least to be neutral and get used to it. In the end, to my surprise, it turned out to be a lot harder to type accurately on the new keyboard than my Retina MacBook Pro or my Apple Bluetooth keyboard. This is totally YMMV (your mileage may vary) territory.

The other thing that pushed me over the line when I was thinking about returning it was managing two laptops (in addition to my Mac Mini). Not so much keeping files current, but license management issues. Most of the programs I use a lot are limited to two installations, and keeping track of what is activated on which laptop presented possibilities like taking one of them on a trip having forgotten to deactivate/sign out on the other one, which could be a real problem."
Not all early adopters of the new MacBook have been disappointed, however, with many other users pleased with the notebook's ultra-thin and lightweight design, high-resolution Retina display, fanless architecture, all-day battery life, Force Touch trackpad, redesigned keyboard with butterfly mechanism, portability and more. Some users also found the notebook's performance to be good enough for everyday tasks.
MacRumors forum member Maclee2010:
"It is a staggeringly great little machine.

Virtually no heat coming from it and silent operation.
Runs a long time on a single charge.
It looks fantastic and is the most fun notebook I have ever used.
It handles everything I have thrown at it like any MacBook I have owned.
The trackpad has some really neat new tricks and feels great.
It sits very comfortable on my laptop lap cushion.
The keyboard looks amazing at night and feels great, I type faster.
I am more productive as I love using this notebook.
The performance is great for 98% of everything most users will do.
It's easy to take anywhere you need to go, light as a feather, packs down nice.
The screen is super sharp and makes my late 2013 13" rMBP screen look fuzzy.
12" is just right, not to big and not to small.
Makes the 13" Retina MBP look very outdated.
Single port is just fine, if you need many ports to use your computer today, you are doing it all wrong. I do all my backups and any necessary restorations wirelessly. I use the cloud, not just Apple, but multiple clouds.
Ultimately, the new MacBook, positioned at the lower end of Apple's notebook lineup, paves the way for the future with its innovative new design and features. If Apple can manage to combine the performance of a MacBook Air with the feature set of the 12-inch MacBook, with a matching or lower than $1,299 entry-level price point, the notebook will be an even more attractive product for prospective buyers in the future.