Teardown of New 4K 21.5-inch iMac Reveals Removable RAM and Modular CPU
iFixit has published a teardown of the new 4K 21.5-inch iMac, which reveals that – surprisingly – Apple's smallest all-in-one desktop machine has both removable RAM and a Kaby Lake processor that's not soldered onto the logic board.
iFixit made the discovery by disassembling Apple's $1,299 mid-range 3.0GHz stock option, which includes 8GB of 2400MHz DDR4 memory, a Radeon Pro 555 graphics card with 2GB of VRAM, and a 1TB 5400-RPM hard drive.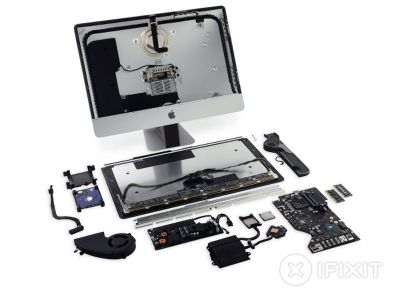 After slicing through the adhesive that secures the 4K display to the iMac's housing and removing the power supply, hard drive, and fan, iFixit discovered that the memory modules aren't soldered onto the logic board like previous models, but instead sit in two removable SO-DIMM slots.
Similarly, after detaching the heatsink and removing the warranty voiding stickers on the backside of the logic board, iFixit found that the Intel SR32W Core i5-7400 Kaby Lake processor sits in a standard LGA 1151 CPU socket, making it possible to replace or upgrade the CPU without a reflow station.
As iFixit notes, an upgradeable iMac is a big shift in direction from Apple. The last 21.5-inch iMac with expandable memory was the 2013 model, while the last to include a modular CPU came in 2012. iFixit speculates that the change to a socketed processor may be because Intel's desktop class Kaby Lake line-up currently lacks any permanently mountable chips, but it's conceivable Apple could have requested one if it so chose.


It's important to note that Apple officially considers these parts non-user-replaceable, which is easy to see given the relative difficulty accessing them – compare the work involved in accessing the 21.5-inch iMac's RAM slots, with the external memory hatch found in the 27-inch iMacs, for example. That said, the fact that replacing these components is practically possible will come as music to the ears of tinkerers armed with the right tools and instructions.
Despite the upgradeable RAM and CPU, iFixit awarded the 2017 21.5-inch iMac a 3 out of 10 for repairability (10 being easiest to repair) because of the challenge involved in accessing the components. Still, that's an improvement on the 2015 model, which was given a 1 out of 10 for repairability.
Other minor changes of note discovered in the teardown include a single microphone below the iMac's LG-manufactured display (where previously there were dual mics), a replaceable CMOS battery, and an upgradeable 3.5-inch SATA hard drive, but no SSD connector.
Check out the full teardown on the iFixit website.