Placeholder for iOS 11 'Files' App Goes Live on App Store
With just hours to go until Apple's WWDC keynote, a new placeholder app listing for a "Files" app has appeared on the iOS App Store for iPhone and iPad, as noticed by Steven Troughton-Smith.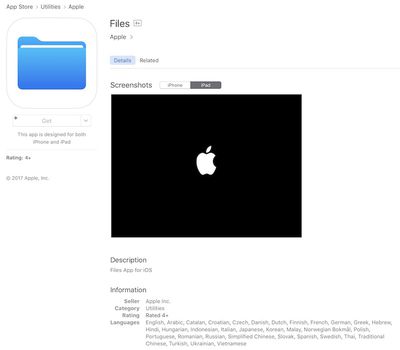 Details on the app are scant, as the app description is merely "Files App for iOS" and there are no other details on the app other than an icon depicting a blue folder, although Troughton-Smith points out the app only supports 64-bit architectures. iOS 11 has been rumored to be dropping support for 32-bit apps, and Apple has been warning users about apps that have not been updated with 64-bit support.
As we noted in our iOS 11 wishlist feature, file management is one area where MacRumors readers have been hoping to see improvement, and this upcoming Files app could help provide that.
The Files app is undoubtedly a default system app for iOS 11, but system apps that can be deleted have App Store entries to allow users to reinstall them. As Troughton-Smith notes, a listing for the Activity app has also appeared in the App Store, suggesting users will be able to delete the app in iOS 11, something that is not currently possible.
Update 11:48 PM: Apple appears to have pulled the Files and Activity listings from the App Store.