Apple and Amazon will join Foxconn in a bid to win Toshiba's NAND memory chip unit, which has been on sale since March and was previously said to finally conclude bidding sometime in June. Nikkei quoted Foxconn chairman Terry Gou as saying that Apple and Amazon will "chip in funds" to help Foxconn win the final bid (via Reuters).
Gou left out the exact amount of the funding that Apple and Amazon would provide, and it was also mentioned that Japanese manufacturer Sharp, which Foxconn acquired last year, will also take place in the bidding. In an official statement, Foxconn referenced Apple and Amazon by calling the U.S. companies "strategic partners" in the bid for Toshiba's memory chip unit, while mentioning that more details would come "at the appropriate time."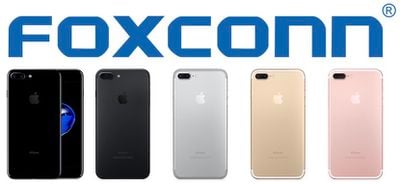 Apple Inc and Amazon.com Inc will join Foxconn's bid for Toshiba Corp's semiconductor business, the Nikkei business daily quoted Foxconn Chairman Terry Gou as saying on Monday. The two U.S. technology giants plan to "chip in funds", Gou said in an interview, according to the newspaper.

"Of course Apple and Amazon are offering money together, but I cannot comment on how much funds each company is putting on the table," Gou said at a hotel in Osaka.
The sale of Toshiba's chip unit has been riddled by a legal battle with Western Digital over the past few weeks, making it uncertain who -- if anyone -- would end up winning the bid for the unit. Following the announcement of the initial sale, Apple was reportedly looking into spending several billion dollars for a "substantial stake" in the Toshiba memory chip unit, as well as potentially partnering up with Foxconn in the bidding war.
Foxconn has already been suggested as an unlikely winner of the unit due to its deep ties with China, with the Japanese government likely to oppose any winning bid that would take key Toshiba chip technology out of the country. Foxconn's previous bid of $27 billion was reportedly rejected by Toshiba, so now it appears that the manufacturer will beef up its offering for Toshiba's unit with the help of Apple, Amazon, and Sharp, although it's unclear if more money will be enough for the China-based company to win.
According to Gou, if Foxconn would win Toshiba's chip unit it plans to keep the Japanese leadership in place, which it hopes is a way to appease the Japanese government ahead of the end of bidding.

"We will definitely not undermine nor interfere with [Toshiba's existing management]. We will treat them like the way we have been treating Sharp," Gou said, adding that he was confident that Foxconn stood a good chance of winning the bid.

"We let Japanese [managers] run Sharp ... we are also hoping that Toshiba's memory unit will survive into the next 50 to 100 years at least, like Sharp."

Other bidders include Broadcom and South Korea's SK Hynix, and the winner is expected to be announced sometime this month, ahead of Toshiba's next shareholder meeting.
Update: Terry Gou has said that, "Apple is in for sure," in regards to the Foxconn-led group aiming to win Toshiba's memory chip unit. According to a Reuters report, Tim Cook and Apple's board of directors approved the decision to participate in the bidding.