Apple CEO Tim Cook Urges U.S. President to Stay in Paris Climate Pact
Amid rumors suggesting U.S. President Donald Trump plans to withdraw the United States from the Paris climate agreement, multiple tech CEOs have been urging him not to do so, reports Bloomberg.
On Tuesday, Apple CEO Tim Cook called the White House to ask the president not to abandon the agreement, which is a 195-nation pact committed to cutting down on greenhouse gas emissions and reducing global warming. Under the terms of the pact, the United States commits to reducing carbon emissions by 26 to 28 percent over the course of the next decade.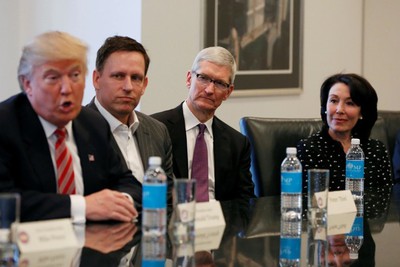 Apple CEO Tim Cook at the Executive Tech Summit at Trump Tower in December of 2016


Trump, who said he opposes "draconian climate rules" during his presidential campaign, announced this morning that he would make his decision on the accord "over the next few days." Officials who spoke to the New York Times said a decision has not yet been made, but Trump is expected to withdraw on the grounds that the accord would harm the economy and impact job creation in areas like Appalachia and the West.
I will be announcing my decision on the Paris Accord over the next few days. MAKE AMERICA GREAT AGAIN! — Donald J. Trump (@realDonaldTrump) May 31, 2017
A senior White House official cautioned that the specific language of the president's expected announcement was still in flux Wednesday morning. The official said the withdrawal might be accompanied by legal caveats that will shape the impact of Mr. Trump's decision.
Over the course of the last several years, Apple has become increasingly committed to reducing its environmental impact and running its business on 100 percent renewable energy. Most recently, Apple announced plans to pursue a closed-loop supply chain where its products would be built entirely from recyclable materials.



Along with Cook, Tesla CEO Elon Musk has asked Trump not to withdraw the United States from the Paris Accord. In a tweet, Musk said he's done all he can to influence Trump's decision, and in a followup tweet, Musk said he would leave the White House advisory councils he participates in should Trump choose to leave the accord.
Don't know which way Paris will go, but I've done all I can to advise directly to POTUS, through others in WH & via councils, that we remain — Elon Musk (@elonmusk) May 31, 2017
Many other White House officials and companies are attempting to persuade Trump before he makes a final decision. In early May, CEOs from 30 companies
sent an open letter
pointing out the potential for negative trade implications should the U.S. exit the Paris agreement, and on Thursday, 25 major companies, including Intel, Apple, Google, Microsoft,
will publish
a full-page pro-accord letter in the
New York Times
and the
Wall Street Journal
.
Note: Due to the political nature of the discussion regarding this topic, the discussion thread is located in our Politics, Religion, Social Issues forum. All forum members and site visitors are welcome to read and follow the thread, but posting is limited to forum members with at least 100 posts.