New Drone Footage Shows Nearly Complete Apple Park Campus at Night
Apple Park, Apple's second campus in Cupertino, California, is set to have its grand opening this month, and ahead of its official debut, last minute construction and landscaping is continuing on at a rapid pace.
As part of a mid-month update, drone pilot Duncan Sinfield has shared a new video of Apple Park, this time getting some gorgeous nighttime shots of the campus lit up at night. In the evenings, the lights on the ring-shaped main building stay on, and it's an impressive sight.
The nighttime shots are towards the end of the video, which also shows the completed parking structures, landscaping work with hundreds of trees being planted, final construction on the main building, furniture installation, and more.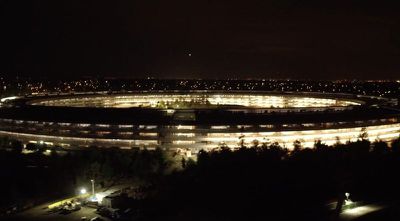 While employees are set to start working at Apple Park at some point in April, landscaping and construction on auxiliary buildings will continue into the summer.