Google appears to be testing a Dark Mode feature for YouTube in the latest version of its Chrome 57 desktop browser.
The built-in mode was discovered on Thursday and shared in a Reddit post, and while the setting doesn't appear by default, a quick command in the developer console is all that's required to enable it.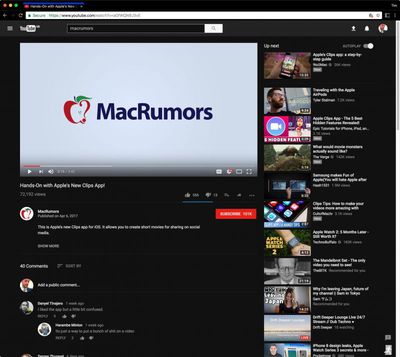 YouTube Dark Mode in Chrome with black theme enabled
Follow these steps to enable the YouTube dark mode in Chrome on Mac. Make sure you're signed in to YouTube before performing the steps.
Press the keyboard combination shortcut Option + Command + I to open the developer tools sidebar.
Click the Console tab.
Paste document.cookie="VISITOR_INFO1_LIVE=fPQ4jCL6EiE" into the console and press enter.
Close the developer tools sidebar and refresh the YouTube page.
Click your YouTube profile picture, select Dark Mode from the dropdown, and toggle the switch to enable the mode.
Google Chrome is available to download for free on the Chrome website. [Direct Link]