Malware attacks on Macs were up 744 percent in 2016, according to the latest Threat Report shared by McAfee Labs [PDF]. Mac users don't need to be overly alarmed, though, because much of that huge jump can be attributed to adware bundling. macOS malware samples jumped up 245 percent in the fourth quarter of 2016 alone just from adware.
Adware, while irritating, is less alarming than true malware attacks that can hijack a machine or render it unusable.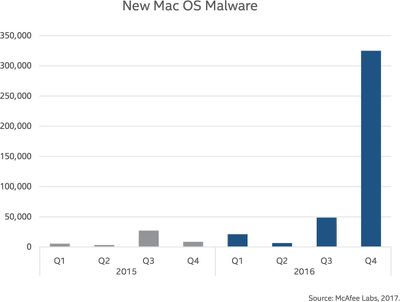 McAfee says it discovered 460,000 malware samples on Mac machines, a huge increase over 2015 numbers, but still just a small portion of overall malware out in the wild. According to McAfee, there were more than 630 million total instances of malware last year.


While most of the surge in Mac malware was adware, we've still heard about some alarming Mac-based attacks over the course of the last year, including ransomware distributed via trusted BitTorrent client Transmission, Backdoor.MAC.Eleanor, Xagent, which could steal passwords and iPhone backups, and more.
Mac users who want to avoid malware and adware should only download software from trusted developers and directly from the Mac App Store, which should keep Mac machines relatively safe.