'YouTube TV' Streaming Service Launches in Five U.S. Cities
YouTube TV, YouTube's streaming television service that was first announced in late February, is rolling out to five cities in the United States starting today.
Priced at $35, the service is available in the San Francisco Bay Area, Los Angeles, New York City, Philadelphia, and Chicago.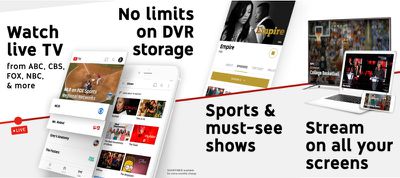 Separate from YouTube Red, YouTube's premium service that features content from prominent YouTubers, YouTube TV is a standalone app that's focused on a mobile first experience. It features access to ABC, CBS, Fox, NBC, CW, Disney, ESPN, FX, USA, and dozens of other major cable channels, alongside standard YouTube video content. Premium channels like Showtime are available for an additional fee.
YouTube TV is priced competitively with other streaming services like DirecTV Now, Sling TV, and PlayStation Vue, and its feature set includes cloud DVR options with unlimited storage space and an AI-powered recommendation system. Up to six people in a household can use a single YouTube TV subscription.
To access YouTube TV, customers will need to download the YouTube TV app for iOS or Android, both of which are available today. A one-month free trial is available, and YouTube is providing a free Chromecast with the first month's payment to allow customers to stream content to a television set.
YouTube TV can be downloaded from the App Store starting now. [Direct Link]