Mac Pro CPU and GPU Upgrades See Significant Price Drop
Apple today announced price drops for its Mac Pro lineup ahead of a major revamp coming in the future, dropping the 4-core option and significantly lowering the prices of its new baseline 6-core and 8-core machines.
Apple has also made Mac Pro build-to-order processor and GPU upgrades much more affordable for pro users who need higher-end specs than the base machines provide.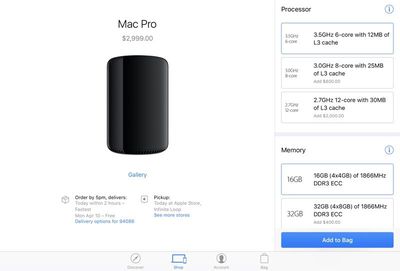 Upgrading the new 3.5GHz entry-level 6-core Mac Pro to the 3.0GHz 8-core processor now costs $800, while upgrading to the 2.7GHz 12-core machine costs $2,000. Prior to today, the 8-core upgrade was priced at $1,500, and the 12-core upgrade was priced at $3,000.
GPU upgrades are also more affordable. With the 6-core machine, upgrading from the stock dual AMD FirePro D500 to the FirePro D700 now costs $200, an upgrade that was previously priced at $600. The GPU upgrade isn't necessary on the new stock 8-core machine, as it ships with the D700s.
RAM and flash storage upgrade pricing has not changed, however. It continues to cost $400 to upgrade to 32GB RAM and $1,200 to upgrade to 64GB RAM. 512GB flash storage is available for $200, and the 1TB flash storage upgrade costs $600. Prices on flash storage were lowered back in October alongside the launch of the new MacBook Pro.
All in all, a maxed out Mac Pro machine with a 12-core processor, 64GB RAM, 1TB flash storage, and dual AMD FirePro D700 GPUs will now cost $6,999 instead of $9,599.
The Mac Pro lineup has not gained any refreshed or updated hardware -- all that's changed is configuration and price. The machines continue to use Ivy Bridge E Xeon processors, dual AMD FirePro GPUs, and Thunderbolt 2.
Apple's reconfigured Mac Pros are available starting today from the online Apple Store and Apple retail stores. The 6-core model can be purchased immediately, but the 8-core model is listed as "currently unavailable."
Today's price drops come ahead of a promised overhauled Mac Pro that will be introduced sometime after this year. Apple is working on a high-end high-throughput modular Mac Pro system that will facilitate regular upgrades to meet the needs of Apple's pro user base.