iPhone 8 Predicted to Start at $850 to $900 for 64GB Model, $950 to $1,000 for 256GB Model
Apple's widely rumored high-end iPhone with an OLED display is expected to cost upwards of $1,000, but UBS analyst Steven Milunovich believes that a base 64GB model could start at $850 to $900 in the United States. That price point would be similar to Samsung's new Galaxy S8+, which starts at $840 to $850.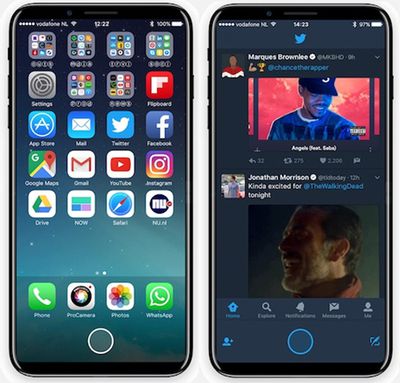 Milunovich said the flagship iPhone could start at under $1,000 as part of Apple's "mainstream luxury" pricing strategy. He also believes the 5.8-inch device will be competing at a screen size disadvantage compared to the 6.2-inch Galaxy S8+, leading him to predict Apple will adopt similar pricing as Samsung.
Milunovich thinks that a 256GB model could cost between $950 and $1,000, so the iPhone could very well be the first mainstream smartphone in the United States to have a four-digit price tag. He also predicted that the tentatively named iPhone 7s and iPhone 7s Plus will start at around $649 and $749 respectively.
An excerpt from Milunovich's latest research note obtained by MacRumors:
Contrary to some perceptions, Apple prices quite competitively. Apple likes to position its entry-level products at the mid-market with "Pro/Plus" products close to competitors at the high end. Therefore, we do not think Apple will stray far from the price point of Samsung's most expensive model at $840-850 and will keep the entry OLED model at $850-900. Apple's 256GB OLED model could be $950-1,000, but the 256GB 7 Plus already is $970.
The research note cites UBS Asia hardware analyst Arthur Hsieh, who estimates the factory cost of the tentatively named iPhone 8 could be $70 to $90 higher than the iPhone 7 Plus, which starts at $769. Milunovich's prices appear to be merely predictions based on this information, rather than inside sources.
In addition to an edge-to-edge OLED display with narrow bezels, the iPhone 8 is expected to resemble the Galaxy S8 in many ways, including wireless charging, no physical Home button, and potentially 3D facial recognition and/or iris scanning. Touch ID might be embedded in or under the True Tone display.
Milunovich maintains a "buy" rating for AAPL with a $151 price target. AAPL closed at an all-time high of $144.77 on Tuesday.