New 9.7-Inch iPad Now Available for Personal Pickup at Apple Stores
The new 9.7-inch iPad is now available for purchase at select Apple Retail Stores in the United States, Canada, Australia, and Japan, according to the company's in-store pickup tool enabled today. A handful of stores may have had limited stock already, but supplies now appear ample for Apple to accept reservations.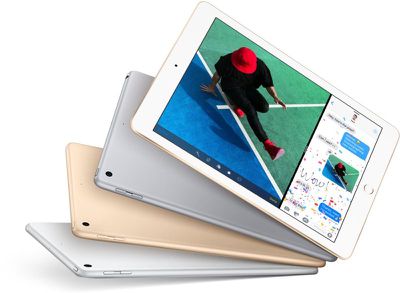 Apple has yet to activate Personal Pickup in other countries where it operates Apple Retail Stores, including Belgium, Brazil, China, France, Germany, Hong Kong, Italy, Macao, Mexico, the Netherlands, Spain, Sweden, Switzerland, Turkey, the United Arab Emirates, and the United Kingdom.
Nevertheless, in-store stock may be available as early as today in some of those countries as well. Apple said the new 9.7-inch iPad would be available to purchase at select Apple Retail Stores, authorized resellers, and carrier stores by the end of this week in more than 20 countries. Call ahead to check.

Availability of new 9.7-inch iPad in Los Angeles area Apple Stores today
Apple began
accepting online orders
for the new 9.7-inch iPad on its website last week, with initial orders estimated for delivery between March 31 and April 5 in the United States. Orders placed today are estimated to ship between April 6 and April 14 depending on the shipping method selected.
Apple accepts iPad returns within 14 calendar days of receiving an online order, so some customers that still have a far out delivery date may elect to try their luck in stores, but your mileage may vary. Online orders can also be canceled on Apple's website if they have yet to be processed for shipment.
Apple unveiled the new 9.7-inch iPad last week as a low-cost successor to the iPad Air 2, which has been discontinued. The tablet features a faster A9 chip and brighter Retina display than the iPad Air 2, but it is somewhat thicker and heavier than the iPad Air 2 since it lacks a fully laminated display.
The tablet essentially packs an iPhone 6s chip with other iPad Air 2 components into an original iPad Air design. Read our new 9.7-inch iPad vs. iPad Air 2 article for a side-by-side comparison of complete tech specs.
The new 9.7-inch iPad starts at $329 for a 32GB model with Wi-Fi, making it the cheapest new tablet that Apple has ever sold. Apple also offers a 128GB model with Wi-Fi for $429, while cellular-capable 32GB and 128GB models are available for $459 and $559 respectively in Silver, Gold, and Space Gray.