New 9.7-Inch iPad Teardown Confirms It's Basically an Original iPad Air
iFixit has shared a brief teardown of Apple's new 9.7-inch iPad unveiled last week, and unsurprisingly, the tablet looks just as much like an original iPad Air on the inside as it does on the outside.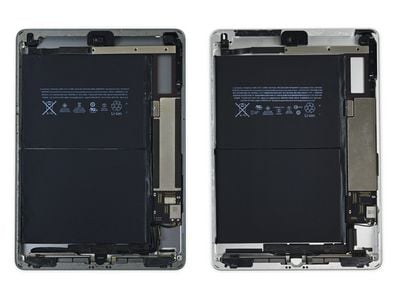 In the side-by-side photo above, iFixit noted the original iPad Air on the left has a slightly larger Wi-Fi module compared to the new 9.7-inch iPad on the right, but otherwise the tablets look virtually identical.
iFixit said the new 9.7-inch iPad remains difficult to repair due to the front panel being glued to the device and strong adhesive holding everything in place. One plus is that the battery is not soldered to the logic board.
The new 9.7-inch iPad is all about price. It's the cheapest new tablet that Apple has ever sold, starting at $329, yet with a brighter display and a faster A9 processor compared to the now-discontinued iPad Air 2.
The fifth-generation iPad, as it is officially known, is also somewhat thicker and heavier than the iPad Air 2 since it lacks a fully laminated display with anti-reflective coating in order to keep costs down.


The tablet's tech specs are otherwise identical to the iPad Air 2, including a display resolution of 2,048‑by‑1,536 at 264 PPI, 8-megapixel rear iSight camera, 1.2-megapixel front FaceTime camera, two speakers, Lightning connector, 3.5mm headphone jack, Touch ID with Apple Pay, and Bluetooth 4.2.
The new 9.7-inch iPad can be ordered now on Apple's website in the United States and dozens of other countries.
Apple said the new 9.7-inch iPad is also available to purchase at select Apple Stores, authorized resellers, and carrier stores starting this week in more than 20 countries, including the U.S., Australia, Canada, China, France, Germany, Italy, Japan, Netherlands, Spain, Sweden, Switzerland, and the U.K.