Tim Cook visited Beijing-based bike-sharing company ofo on Tuesday, according to Reuters. The Apple CEO has been in China since at least Saturday, when he gave a wide-ranging talk at the China Development Forum.
During his ofo stop, Cook met with founding members including CEO Dai Wei, and posed for pictures of him riding a yellow ofo bike.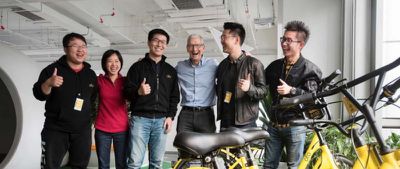 "Thanks for welcoming me today, ofo team! Great energy behind your mission to make commuting greener, more efficient and fun!" Cook said in his official Sina Weibo post, along with pictures of him riding an ofo bike.
The rivalry between China's bike sharing startups has been compared to the battle between Uber and local competitor Didi Chuxing. Last year, Apple poured a $1 billion investment into Didi Chuxing, earning it a seat on the company's board. At the time, Cook described the investment as "a chance to learn more about certain segments of the China market".
Ofo, which counts Didi Chuxing as an investor, confirmed that Cook made the company visit on Tuesday but said no discussions regarding collaboration or investment took place. The company has already raised $450 million this month, which saw its valuation pass the $1 billion mark for the first time.
Founded in 2014, ofo developed the world's first "non-docking" bike sharing platform operated by a mobile application, according to its site. Ofo and main rival Mobike are among a number of rapidly emerging bike-sharing services that allow users to find, unlock, and pay to rent trackable bicycles through smartphone apps, allowing younger consumers to get around congested roads and public transport.
Ofo operates 2.2 million bikes in 43 cities in China, with pilot schemes in Singapore, London, and California.