Apple's Online Store Down for Scheduled 'Maintenance' Break, Possibly Ahead of Product Updates
Apple's online store has been taken offline for a scheduled "maintenance" break between midnight and 5:30 a.m. Pacific Time. The extended downtime is fueling hopes that fresh hardware will be available when the store is brought back online, as has been the case many times in the past.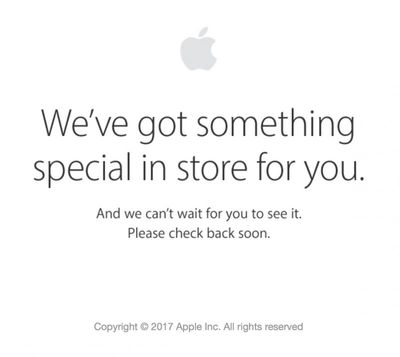 Apple traditionally invites the media to Special Events to unveil new products, but it does not have one planned for today. Accordingly, any additions or changes to Apple's online store today are likely to be minor, and a press release would be an appropriate medium for sharing the announcements.
Lending credence to this theory is that 5:30 a.m. Pacific Time happens to be exactly when Apple typically distributes press releases.
Rumors suggest Apple is planning updated 9.7-inch and 12.9-inch iPad Pro models, a 128GB iPhone SE, a red color option for iPhone 7 and iPhone 7 Plus, and new Apple Watch bands, all of which could be minor enough to simply be added to Apple's online store and announced with press releases.
Less likely to be announced today is a rumored 10.5-inch iPad Pro sporting a narrow bezel design, which seems too significant to be unveiled without an Apple event. If so, the 10.5-inch iPad Pro could be introduced at an upcoming Spring event, WWDC 2017, or possibly even later.
One rumor said Apple would host an event in March, but that appears increasingly unlikely at this point. Apple has yet to invite the media to said event, and there are only ten days remaining in the month. A subsequent report said Apple will host an event in April, coinciding with the opening of its new Apple Park campus.
Apple's online store has gone down roughly six hours before many of its recent Special Events, while today's maintenance break is scheduled to last five and a half hours. Apple said its online store will be "updated" during this time, suggesting that at least something new might be coming today.
So-called "maintenance" really could just be maintenance, but the classic "We've got something special in store for you" placeholder notice on the site suggests something more. We'll know for sure in just a matter of hours, so keep checking back.