Apple Stock Smashes Previous All-Time High For Second Month Running
Apple shares hit a record closing high in Nasdaq trading yesterday, reaching $140.69 to beat its previous all-time closing high of $140.46 set just two days ago.
A new all-time intraday high of $141.02 was also set by AAPL on Thursday, eclipsing its previous record of $140.75, also set on March 15. Stocks re-opened today at $140.72 and remained steady around the $140 mark.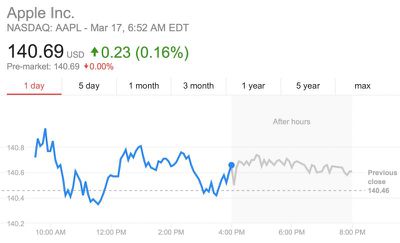 The figures cement Apple's position as the most valuable company by some margin, now with a market value of $738 billion. Google parent company Alphabet remains second largest with a market cap of around $592 billion, followed by Microsoft at just under $500 billion and Berkshire Hathaway at around $430 billion.
Following Apple's first annual revenue decline since 2001, its stock has been steadily rising over the past five months, buoyed by record-breaking earnings results at the end of January. February 14 saw shares reach $136.27 in intraday trading, eclipsing a previous all-time intraday high set in April 2015, while Apple's market value surpassed $700 billion.
Wall Street analysts have claimed for months now that Apple remains one of the world's most under appreciated stocks. Among a large group of Apple analysts, Brian White of Drexel Hamilton, Steven Milunovich of UBS, and former analyst turned venture capitalist Gene Munster have all predicted rises. Apple's relative strength line, which gauges the stock's performance versus the S&P 500 index, is at its highest level since September 2015.
Some projections put Apple's stock price on a continual upward trend over 'iPhone 8' optimism, with several financial analysts raising their price targets for Apple's stock to between $150 and $185, according to research notes obtained by MacRumors.