Apple Tops 'Tech Support Showdown' List for Third Consecutive Year
Apple has topped Laptop Mag's Tech Support Showdown list for the third year in a row, receiving praise as "the best tech support in the business," and beating out nine other computer-making companies in the process. Laptop Mag said that its list is aimed at helping customers see who has the most reliable and clear customer service in the tech industry.
To conduct the research, the magazine sent reporters undercover to make calls, query support chat online, and ask questions on social media, and accumulated data on the following top ten notebook makers: Apple, Microsoft, Acer, Razer, Dell, Lenovo, HP, Asus, Samsung, and MSI. Each company was given a grade on a 100-point scale, and Laptop Mag weighted 60 points towards online support and 40 points toward phone support.
For Apple's winning spot, the company received a 56 for its web support score and a 37 for its phone support score, resulting in an overall mark of 93 for the Cupertino company's tech support in 2017.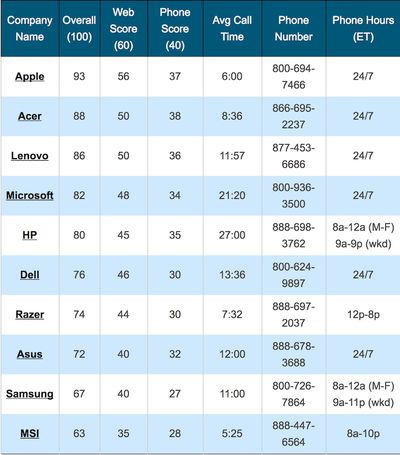 Laptop Mag went more in-depth about its experience with Apple support in various forms, discussing a six minute response time from the @AppleSupport Twitter account and a positive, snappy experience with the new Apple Support iOS app. The site also put Apple to the test by calling three separate customer service reps to test their knowledge of the newest changes to macOS and the Touch Bar on the MacBook Pro.

Call 1: Hayley then instructed me to disable iCloud Drive, and explained how to keep a local copy of the files. During the 2 minutes it took to download the files, I chatted with Hayley about the weather down in Florida, as he was positive and easy to talk to.

At the end of our chat, I asked if there was some way to turn iCloud Desktop and Documents off without disabling iCloud Drive. Hayley said there was not, which is, unfortunately, not the case. The call took 8 minutes in total.

Call 2: My next call connected me to Frank in Oregon, who explained that the physical fn key makes the Touch Bar show the Function keys. Frank also showed me how to set specific apps to use the Function keys in the Touch Bar, and he needed to place me on hold to ask colleagues if I could do the same for Finder.

After telling me that there was no such option, Frank directed me to a feedback page where I could ask Apple to add this option in a future version. In total, the call took 15 minutes, but Frank solved my main question in only 3 minutes.

Call 3: My last call connected me with the upbeat and chipper Letasha, who showed me the icon in the dock and menu bar that you click to activate Siri. Before we concluded, Letasha explained how to change the keyboard command used to start Siri. The call lasted 7 minutes.

On average, it took Apple's reps 6 minutes per call to get answers — a minute less than its time last year.
Ultimately, Laptop Mag noted that while the customer service reps might have a few spots of incorrect knowledge about Apple's software and hardware, they still "provided solutions in a speedy and positive manner." While Apple's web score was unrivaled at 56, the company's phone score of 37 was beat out by Acer at 38 points. In total, Acer came in second with a total score of 88 points, making it the "top-rated Windows PC vendor for support" and gaining ground on Apple's number one spot.

If Apple wants to improve its support, it should ensure support techs learn about all of the new features so that they can give completely accurate answers to questions on topics such as iCloud Documents. Its Twitter account could also improve by providing answers directly, instead of linking to posts where the content is found. Overall, though, Apple offers the best support of any laptop manufacturer, as it has for many years.
Last November, Apple won the "Gold" #Customer award for its helpful responses from @AppleSupport on Twitter. According to Twitter, Apple ranked #1 among support accounts for average engagements and average engagements for followers, racking up 150,000 likes and retweets since its launch in March 2016.
On Twitter, users can ask Apple questions between 5:00 a.m. and 8:00 p.m. Pacific Time, and the company's support team normally responds within a few minutes. Although Laptop Mag said that it didn't award Apple "any points for finally creating a Twitter support account," the site noted that it's one of the best parts of Apple's expansive customer support system and it applauded "the team running that account for the timely, helpful replies."
Check out Laptop Mag's full report on Apple's customer service performance right here.