'Apple Support' App Launches in U.S. App Store
One month after debuting in the Netherlands, Apple's specialized Apple Support app has gone live in the U.S. App Store, reports TechCrunch. The app gives Apple users an easy way to get support for their devices on the go.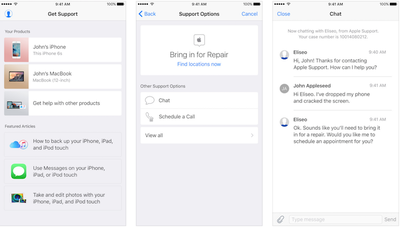 The app is designed to mimic Apple's dedicated support website, providing a list of Apple devices owned by the user and giving them access to documentation for those devices. The app also allows users to schedule repairs in an Apple retail store or natively chat with Apple's support staff. Once they conclude their chat session, users can see their recent support history.
The Apple Support app was first rumored last November, when Sonny Dickson debuted screenshots of the app early in its development.
Apple Support is available in the App Store for free. [Direct Link]