'iPhone 8' Could Reportedly Be Called 'iPhone Edition,' Ship Well After 4.7-Inch and 5.5-Inch Versions
Apple may call the 2017 iPhone 8, rumored to be announced alongside the iPhone 7s and 7s Plus at a September event, the "iPhone Edition," according to a new report from Japanese website Mac Otakara. The name would reportedly signal that the phone is a higher end model, similar to how Apple names the Apple Watch Edition. The "Edition" moniker lines up with reports that the model could cost upwards of $1,000.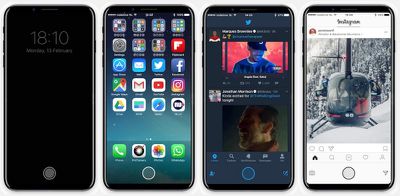 The report goes on to note that Apple is currently testing multiple prototypes alongside the iPhone 8. The prototypes experiment with screen technology and materials, with some prototypes using an LCD display while others use AMOLED. The prototypes are also in testing with and without home buttons. Further, Apple is using them to test glass, aluminum and white ceramic chassis.
Apple is trying to gauge which materials and technologies they can procure at mass scale for production, according to Mac Otakara. KGI Securities analyst Ming-Chi Kuo, Nikkei and the Wall Street Journal have reported the iPhone 8 will feature an OLED screen, while the 4.7-inch and 5.5-inch lower-end models will sport LCD displays.
Mac Okatara says the only features Apple is reportedly certain of are a 5-inch display, wireless charging and dual cameras. The 5-inch display Mac Otakara is referring to is the usable space on the display. The iPhone 8 is expected to utilize an edge-to-edge display that puts a 5.8-inch display in a handset roughly the size of a 4.7-inch iPhone. 5.15 inches of the 5.8-inch display will be usable. The difference will be used for a wide row of virtual buttons.
The Cupertino company is also expected to announce a more standard 4.7-inch iPhone 7s and 5.5-inch iPhone 7s Plus alongside the "iPhone Edition." According to Mac Otakara, while those two models are expected to launch in September, the "iPhone Edition" may not launch until well after that.