Use of iPads and MacBooks in U.S. schools hit a new low last year, with Apple struggling to make further inroads into the education sector, according to new figures (via The New York Times).
According to research company Futuresource Consulting, in 2016 the number of devices in American classrooms that run iOS and macOS fell to third place behind both Google-powered laptops and Windows devices.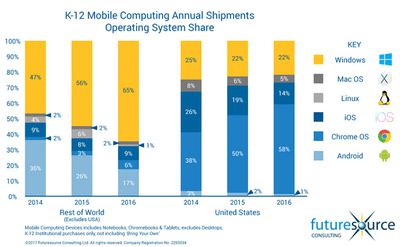 Out of 12.6 million mobile devices shipped to primary and secondary schools in the U.S., Chromebooks accounted for 58 percent of the market, up from 50 percent in 2015. Meanwhile, school shipments of iPads and Mac laptops fell to 19 percent, from about 25 percent, over the same period, while Microsoft Windows laptops and tablets stayed relatively stable at about 22 percent.

At an operating system level, Chromebooks continue to gain market share, reaching 58% in 2016, up from 50% in 2015. The strong combination of affordable devices, productivity tools via G-Suite, easy integration with third party platforms/tools, task management/distribution via Google Classroom and easy device management remains extremely popular with US teachers and IT buyers alike. The rise of Chromebooks has also set new industry benchmarks with regards to average device pricing, with prices reaching as low as $120 on certain projects.
Apple attempted to outmaneuver its education rivals in 2016, announcing its Classroom app, Swift Playgrounds, and a number of other major education-focused feature updates in iOS 9.3, including the ability to share iPads. Microsoft also made significant developments in 2016, including the launch of Microsoft Classroom, 'School Data sSync', and several integrations with popular third party solutions.
This surge in competition has dented Apple's education revenue stream, according to research firm IDC. Of the $7.35 billion that schools, colleges and universities spent on mobile and desktop computers in 2016, sales of Apple devices fell to $2.8 billion, down from $3.2 billion in 2015.
Apple's iPad first lost its lead over Google's line of Chromebook laptops in 2014. Analysts at the time said the swing in fortunes for Google's Chromebooks could be attributed to their low cost, which starts at $199 for some models.
"At the end of the day, I can get three Chromebooks for each of the Mac devices I would have purchased," said Steve Splichal, the superintendent of Eudora Public Schools, speaking to The New York Times. He added that Eudora students continued to use MacBooks for certain creative courses and that first graders and younger students still used iPads.
Apple CEO Tim Cook has previously made light of Chromebooks' increased popularity in the classroom by calling them "test machines", referring to schools' need for cheap devices for mass computerized testing purposes.
However, Cupertino is not interested in advancing testing. Cook said in 2015 that Apple is interested in "helping students learn and teachers teach, but tests, no."