Apple Watch's Record-Breaking Quarter Was Opposite One of Fitbit's 'Largest Declines Ever'
Apple Watch Series 1 and Series 2 have proven to be a "magnificent success" for Apple, which recorded its "best quarter ever" in the wearables market, according to the latest data from research firm IDC.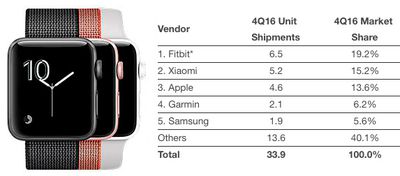 Fourth quarter shipments reflected in millions (Source: IDC)
Apple shipped an estimated 4.6 million Apple Watch units in the fourth quarter of 2016, up from an estimated 4.1 million in the year-ago quarter, according to IDC. Its share of the wearables market, which includes basic fitness trackers, was an estimated 13.6%, down slightly from 14.1% in the year-ago quarter.
Apple closed the gap with wearables market leader Fitbit, which experienced one of its "largest declines ever" in the fourth quarter. Fitbit shipped an estimated 6.5 million fitness trackers in the quarter, down from 8.4 million in the year-ago quarter. Fitbit's market share dropped from 29% to 19.2%, said IDC.
Apple has been heavily marketing the Apple Watch's fitness capabilities as of late, rather than positioning it as a fashion accessory, and this shift in focus has allowed it to grow its presence in the wearables market, according to IDC:
Apple Watch Series 1 and Series 2 proved to be a magnificent success for the company as it was the company's best quarter ever in the wearables market. The lower entry price point and the inclusion of GPS on the Series 2 along with a completely revamped user interface have helped the company grow its presence. Apple is one of the few companies that has been able to quickly refocus its watch to gain traction in the consumer market and has also been leading the charge on introducing the smartwatch category to the commercial segment.
Xiaomi finished second, between Fitbit and Apple, as its Mi Bands are priced well below most competing wearables, allowing the Chinese company to capture 15.2% market share based on an estimated 5.2 million shipments in the quarter. Xiaomi's market share rose considerably from 9.1% in the year-ago quarter.
Samsung was the fifth largest wearables vendor in the fourth quarter with an estimated 1.9 million shipments and 5.6% market share.
IDC estimates that Apple Watch shipments totaled 10.7 million in 2016 for an estimated 10.5% market share, down from an estimated 11.6 million shipments and 14.2% market share in 2015. The annual data has the same top five rankings as the quarterly data: Fitbit, Xiaomi, Apple, Garmin, and Samsung.

Annual shipments reflected in millions (Source: IDC)
It is important to acknowledge that these are estimated figures, and that shipments do not necessarily reflect sales. Strategy Analytics said Apple Watch shipments
totaled 5.2 million
last quarter, which is roughly 600,000 units higher than IDC's estimate, so there is clearly variation between datasets.
Apple does not officially disclose Apple Watch sales, instead grouping the device under its "Other Products" category in earnings results.
Apple only elected to share that the Apple Watch set all time sales records during the first quarter of its 2017 fiscal year, with CEO Tim Cook noting holiday demand was "so strong" that Apple "couldn't make enough."