Apple Among 53 Companies Supporting Transgender Student in Supreme Court Case
Apple and 52 other major companies have signed a Supreme Court brief in support of seventeen-year-old Gavin Grimm, a young transgender man who's fighting with his local school district for the right to use the bathroom of his corresponding gender identity (via The New York Times).
Other than Apple, the tech companies include Amazon, Microsoft, PayPal, Twitter, Tumblr, Yelp, eBay, Airbnb, and more. There are also a few companies not in the tech field that have signed the brief, among them including GAP, Warby Parker, Williams-Sonoma, and MAC Cosmetics.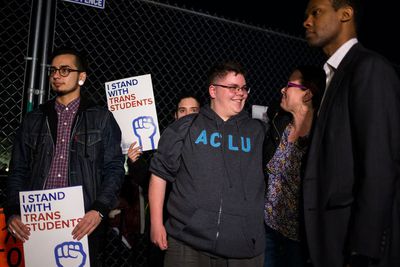 All of the companies signed a brief that will be filed today by gay rights organization the Human Rights Campaign, who is urging the Supreme Court to rule in Grimm's favor. Grimm is represented by the American Civil Liberties Union in his fight against the Gloucester County School Board in his home state of Virginia. The case dates back to 2015 and the Supreme Court agreed to rule on it back in October of 2016.
"These companies are sending a powerful message to transgender children and their families that America's leading businesses have their backs," Chad Griffin, the Human Rights Campaign's president, said in a statement announcing the support.
Grimm's case is heating up in the face of President Donald Trump's decision to remove guidelines put in place by the Obama administration, specifically covering the use of public bathrooms, showers, and locker rooms by transgender students. The previous rules allowed transgender individuals to use the bathroom of their corresponding gender identity, but now it's up to the states to decide whether or not to support the guidelines or put in place a more restrictive system.
Last week, when Trump's decision was announced, Apple spoke out against the move and reiterated on its belief that "everyone deserves a chance to thrive in an environment free from stigma and discrimination." The Cupertino company also vocally disagreed with Trump's immigration executive order, joining another legal brief supported by nearly 100 U.S. companies in opposition to that immigration policy.
Apple has long supported and fought for the rights of LGBTQ individuals, marching in the annual San Francisco pride parade each summer and condemning legislation that would freely allow businesses to turn away gay and lesbian customers -- which was signed into law by Mike Pence in Indiana two years ago. A subsequent amendment to the religious freedom legislation was passed in the weeks after the initial law was signed, granting more protection to LGBTQ customers in the state of Indiana.
For the new case regarding Gavin Grimm, the Supreme Court is set to hear oral arguments from both sides at the end of March.
Note: Due to the political nature of the discussion regarding this topic, the discussion thread is located in our Politics, Religion, Social Issues forum. All forum members and site visitors are welcome to read and follow the thread, but posting is limited to forum members with at least 100 posts.