Harman Could Bring Wireless CarPlay to Audi, VW, Mercedes-Benz, Chrysler, and Other Automakers
Harman today announced that it has achieved the first-ever implementation of wireless CarPlay in vehicles. It said its infotainment system is currently being deployed for a luxury German automaker, which more than likely refers to BMW, the only automaker that currently supports wireless CarPlay as a built-in feature.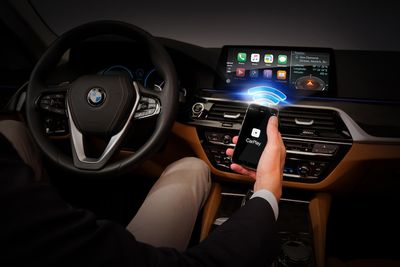 A number of BMW models have supported wireless CarPlay since late last year, and Harman's announcement comes just as the 2017 BMW 5 Series with wireless CarPlay hits the streets in the United States.
Harman did not disclose plans to roll out wireless CarPlay to other automakers, but it has business relationships with several vehicle manufacturers, including Volkswagen Group, Daimler, and FCA, so it is plausible that wireless CarPlay could expand to brands such as Audi, VW, Mercedes-Benz, Chrysler, Dodge, and Jeep in the future.
Harman provided the following statement to MacRumors:
HARMAN is the renowned Tier 1 supplier of infotainment systems to global automakers. Our customers include Audi/VW, Daimler, BMW, Chrysler/FCA, and many others. HARMAN has pioneered the introduction of many Apple features in the past into car – iPod out, CarPlay, etc – as well as other "smart apps" such as Android Auto and Baidu CarLife, for automakers across the world.
Volkswagen actually wanted to demonstrate wireless CarPlay at CES 2016, but it said Apple blocked them from doing so for undisclosed reasons.
Due to confidentiality agreements, it is likely we will have to wait for each of these automakers to announce wireless CarPlay individually, but Harman and BMW have proven that it can be accomplished.
Apple introduced wireless CarPlay support in iOS 9, but the majority of current systems require connecting an iPhone to the vehicle with a Lightning to USB cable. Harman's system is the first to enable wireless implementation, with the iPhone connecting via Bluetooth and data transferring via Wi-Fi.
Last month, Alpine introduced the first aftermarket system with wireless CarPlay for do-it-yourself installations. The iLX-107 features a 7-inch capacitive touchscreen with LED backlighting, and it begins shipping this month for a suggested price of $900. Some resellers may offer it for cheaper as seen with other Alpine receivers.
CarPlay is available in over 200 vehicle models around the world, enabling drivers to make and receive calls, access text messages, play music, get directions, check traffic conditions, and more with Siri voice commands and on-screen controls. CarPlay requires an iPhone 5 or newer.