Disney Research has
constructed a prototype living room
with "ubiquitous wireless power delivery," allowing users to move around while their technology charges without any cables, wires, or charging pads (via
Ars Technica
). Disney's technology mirrors some early rumors for the 2017 iPhone 8, which suggested Apple was building a
long-range wireless charging solution
instead of the Apple Watch-style inductive charging solution of more
recent reports
.
The room's walls, ceiling, and floor were built with aluminum panels, and a large copper pipe was placed in its center. The middle of the pipe was cut out and in the gap the researchers placed fifteen capacitors, "and it's those capacitors that set the electromagnetic frequency of the structure, and can find the electric fields."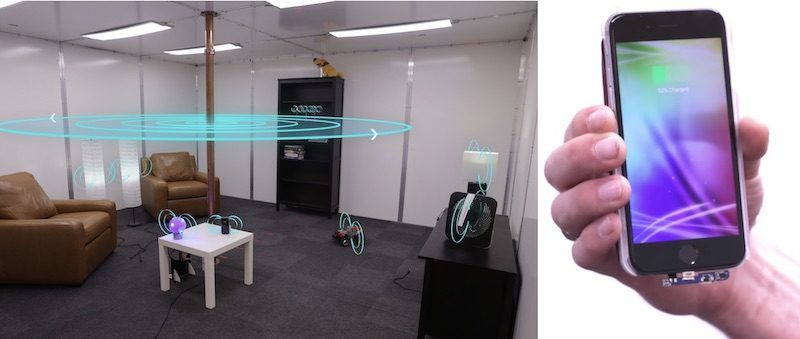 To generate the power that is relayed into the room, a signal generator sits just outside the prototype living room and outputs a 1.32MHz signal to the capacitors in the pole, producing what the researchers call "quasistatic cavity resonance."
"In this work we're demonstrating room-scale wireless power, but there's no reason we couldn't shrink this down to the size of a toy box or a charging chest, or scale up to a warehouse or a large building."
Given that it's still a very early prototype, there's a few caveats to Disney's wireless charger, including the limit on the power that can be pumped into the room before it reaches dangerous levels for humans. The specific absorption rate, a measure of how much energy can be absorbed by the human body, is capped at 1900 watts. The copper pole at the room's center requires the nearest person to have at least 46 centimeters of clearance before they're put in danger. Besides these restrictions, Disney says it's "completely safe" for anyone to occupy the room for any period of time.
In order for the devices to receive the charging signal, Disney had to design a receiver that allowed the researchers to "power many devices simultaneously." Including an iPhone, the other objects included an RC car, a fan, a lamp, and six other devices. Although the technology is still nascent and the receiver is bulky, Disney's "Volumetric Wireless Power for Livable Spaces" is an interesting look at what future wireless charging systems might be able to accomplish without the restrictions of the inductive charging pads popular today.
Because of the restrictions of charging mats, Apple's Phil Schiller has said in the past that the introduction of a wireless charging pad for iPhone would actually be "
more complicated
" and he remained unconvinced that it was actually a convenient solution to traditional outlet and USB cable charging. Still, a prominent rumor for the iPhone 8 is its inclusion of wireless charging in some form, with Apple recently
joining the Wireless Power Consortium
in order to assist in the open development of the Qi wireless charging standard.
Read more about Disney's findings
here
, and check out
another video
that dives deep into the science behind the researcher's wireless charging living room.