Here's the 'Stealth' Case Apple Uses to Conceal iPhone Prototypes During Transport
Long before Apple takes the wraps off a new iPhone, the smartphone goes through months of design work, testing, and production between Apple's headquarters in Cupertino and its manufacturing partners in China.
It is during this time that iPhone parts usually begin to leak, despite Apple's best efforts to double down on secrecy. Nevertheless, noted leaker Sonny Dickson has provided MacRumors with a closer look at a few known measures the company takes to hide iPhone prototypes and prevent potential leaks.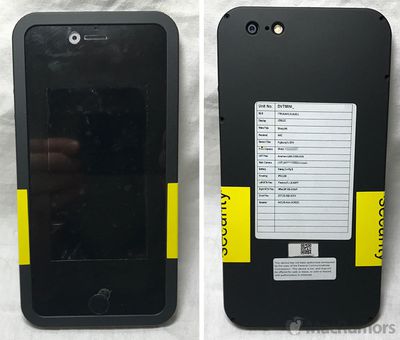 Foremost, Dickson said an iPhone prototype travels across the world in a "stealth" case designed to prevent onlookers from seeing how it looks. The case conceals most of the iPhone, while it has yellow "security" tape along the sides that would show any tampering by somebody trying to get it open.
The prototype is accompanied by a "passport" at all times for quality assurance/control testing, according to Dickson.


"Each component or product that is tested they document in the page," said Dickson. "The person writes their initials next to it and any notes about it passing or failing or any other comments. It makes its way through each test/person. It then is finally sent with its 'passport' from China to Apple."
As known, the prototype itself, such as the iPhone 6 Plus pictured below, is engraved with a QR code for Apple to keep track of the product.


As mentioned, these efforts have not entirely prevented iPhone prototypes from leaking. A mostly accurate picture of the iPhone 7 Plus with a dual-lens camera leaked in March 2016, six months before Apple unveiled the device, while an Apple engineer infamously left a disguised iPhone 4 at a bar near Cupertino in 2010.
Apple will reportedly begin production of a trio of new iPhones, including a 5.8-inch model with an edge-to-edge OLED display, as early as next quarter, so part leaks should begin to surface around that time if history repeats itself. Read our iPhone 8 roundup to keep track of the latest rumors in the meantime.