In an in-depth new look at Apple's merger and acquisitions tactics published today by Bloomberg, Apple's "arrogant" culture of deal negotiations is put on display. According to sources who have worked with Apple in M&A, the company struggles repeatedly to pull off big deals "because of a series of quirks," including a refusal to work with investment bankers, inexperience with large takeovers, and an "aversion to risk."
Apple is more interested, and more confident, in building its own services rather than outright purchasing them from a competitor, with occasional exceptions like the 2014 acquisition of Beats and later launch of Apple Music.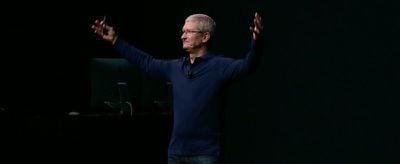 "The first step in M&A is having some conviction about what it is you want to do," said Eric Risley, managing partner at Architect Partners LLC who has negotiated deals with Apple. "Apple probably more than most feels that they're very capable of building things" rather than buying them, he added. An Apple spokesman declined to comment.
According to analysts and investors, Apple's next big move should be the acquisition of an online video streaming service. The company has began making strides towards beefing up Apple Music's original video content division, with Carpool Karaoke: The Series and Planet of the Apps coming this spring, but analysts believe it needs something "akin to Netflix or Amazon.com Inc.'s Prime Video."
In order to reach a forecast of $50 billion revenue in its services business by 2021, Erick Maronak, chief investment officer at Victory Capital Management, said that the company is "going to have to pursue something bigger than a Beats-like acquisition." This might include other possible "blockbuster" acquisitions like Walt Disney Co. or Tesla Inc, according to Baird analyst William Power.
Netflix is also mentioned multiple times as a logical acquisition target for Apple, with multiple investors and analysts saying the company "needs at least one big acquisition in online video."

But even here, some analysts and investors argue for a big acquisition, especially in online video streaming. Apple has started distributing videos through the Music service, and pooling other providers' video in its mobile TV app, but it has no service akin to Netflix or Amazon.com Inc.'s Prime Video.

On Friday, Sanford C. Bernstein analyst Toni Sacconaghi said Apple needs at least one big acquisition in online video. To reach its $50 billion target, the company must find an extra $13 billion in services revenue over the next four years -- beyond what it can generate itself. Netflix Inc. ended 2016 with sales of less than $9 billion, so even buying that business may not be enough, the analyst said.
Looking behind the scenes at the process Apple goes through to acquire a company, the Apple deals team is said to be made up of around a dozen people and led by Apple's head of M&A Adrian Perica. Most deals "take place at the behest of the company's engineers," so the team meets with Apple engineers who advise them on which potential acquisition targets are attractive and include talented engineers that would add value to Apple.
Its acquisition strategy works well for smaller startups, which it acquires frequently, but the company faces a challenge for bigger deals. Apple refuses to work with investment bankers in an attempt to work directly with the other company's management teams. This results in an air of arrogance, according to Eric Risley, who has negotiated deals with Apple, further stating that "they're used to being able to muscle their way in and get attractive economics."
The company's overall attitude "puts off sellers," as well as its inexperience with integrating larger companies. Some analysts point towards the "lukewarm" launch of Apple Music after the Beats acquisition as proof of this struggle. Still, some investors remain adamant that for Apple to succeed, particularly in its attempts at creating and producing original TV, a big acquisition has to happen soon. Many of those have been pushing Netflix as an attractive target, despite Netflix saying it's not for sale.
Read the rest of Bloomberg's report right here.