Roundup: A Look at Various iPhone 8 Concepts and Mockups
With rumors suggesting the 2017 iPhone 8 is going to introduce some of the most radical design changes we've seen to the iPhone since 2014, a number of artists have been making conceptual mockups based on current rumors floating around.
Many of the mockups imagine fanciful ideas that Apple is unlikely to implement, but they also adopt the edge-to-edge display with built-in Home button, OLED screen, wireless charging, and glass body ideas that are being bandied about, giving an interesting look at how iPhone 8 rumors are being interpreted.
The first conceptual design was created by Thadeu Brandão and has been getting a lot of attention over the last couple of days. The mockup features an iPhone with a larger edge-to-edge display, dual cameras, and a glass front and back surrounded by an aluminum frame, and a physical home button built into the screen at the bottom of the device, which we are not expecting for the iPhone 8.
It has an Android-style home bar or "Touch Bar" with controls that change contextually based on the app, an inclusion that is not rumored for the device at this time. Brandão has also shared several iPhone 8 mockups on
his website
, showing off his design in more detail.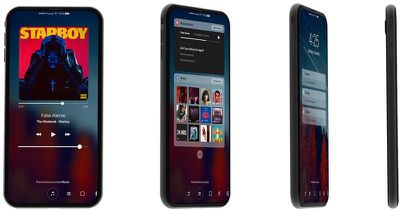 A concept created by Veniamin Geskin and Ran Avni imagines several iterations of the iPhone 8, with a display that extends to the edges of the screen but leaves top and bottom bezels, and another that curves down the edges of the device. Apple Watch-style inductive charging is pictured, as is a variation with a top bezel and no bottom bezel.
An iPhone 8 concept created by
iDrop News
is fairly true to the rumors we've heard so far, featuring an ultra thin device with a bezel-free OLED display, an all-white glass body, no Home button, and iris scanning technology.


Imran Taylor's iPhone 8 mockup, created alongside ConceptsiPhone, imagines a ceramic body (unlikely due to cost), a 5.8-inch curved OLED display, a touch sensitive lower bezel, and wireless charging through a Smart Connector. It includes thick bezels at the top and bottom along with a Touch ID Home button, two features that don't quite align with the rumors we're hearing right now.
Swiss site
Handy Abovergleich
imagines a bubbly iPhone 8 with more rounded edges and a glass body sandwiched between an aluminum frame. A Touch ID Home button is under the display and is accompanied by an Android-style home bar, an iris scanner is built in, and Apple Pencil support is included. It also features USB-C instead of Lightning, a change Apple probably isn't going to make.


The last concept comes from designer Moe Slah, and has an interesting look at how some apps could potentially look on a device that has an edge-to-edge display.
Apple is expected to introduce the redesigned iPhone 8 in September, its usual timeframe for introducing new devices. Up to three models may debut, including the flagship ~5-inch OLED device with an edge-to-edge display that's pictured in all of the mockups and standard 4.7 and 5.5-inch models that may have a design closer to the iPhone 7.
For full details on what to expect from the 2017 iPhone, make sure to check out our dedicated roundup, which is updated on a regular basis with everything we know about the device so far.