Nintendo's 'Fire Emblem Heroes' Game Earned an Estimated $2.9 Million During First Day
Nintendo's newly released game Fire Emblem Heroes earned an estimated $2.9 million in worldwide gross revenue during its first 24 hours of availability, according to data shared by app analytics firm Sensor Tower.
Since being released yesterday morning for iOS and Android devices, Fire Emblem Heroes has been downloaded more than two million times from the iOS App Store and the Google Play store. Download numbers may have been affected by a late release in the United States - the game didn't become available on iOS devices until the afternoon.
At $2.9 million in gross revenue, Fire Emblem Heroes is not quite the hit that Pokémon GO and Super Mario Run were. Pokémon Go earned an estimated $10.2 million during its first 24 hours of availability, while Super Mario Run brought in $8.4 million.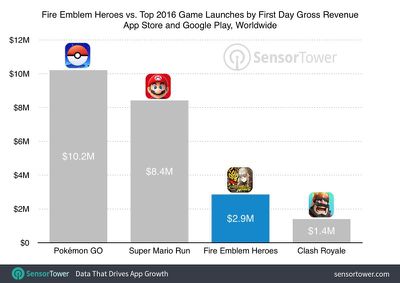 It was also not downloaded quite as many times, likely due to the fact that the Fire Emblem series isn't as well known as the Mario or Pokémon franchises nor was it as heavily promoted. Pokémon GO was downloaded an estimated 4.2 million times on day one, while Super Mario Run, was downloaded an estimated 6 million times.


Unsurprisingly, Fire Emblem Heroes has proven to be most popular in Japan, with the United States coming in second.
Bringing classic titles to iOS devices has thus far proven to be a successful venture for Nintendo. Super Mario Run set an App Store record with 40 million downloads in just four days. Since its December release, Super Mario Run has brought in more than $53 million in revenue with more than 78 million downloads.
Nintendo plans to continue releasing a steady stream of iOS games, with popular series Animal Crossing said to be one of the next games on the horizon. Nintendo originally said Animal Crossing would be released by March, but recently delayed the title until the following financial year, which runs from April 2017 to March 2018.
Fire Emblem Heroes can be downloaded from the App Store for free. It doesn't cost anything up front, but Nintendo makes money on the game through in-app purchases for speeding up gameplay. [Direct Link]