IGG Software today announced the upcoming launch of Banktivity 6, the latest version of the popular personal finance app for Mac. The software, previously known as iBank, has been redesigned for macOS Sierra and updated with several new features, including Workspace, Tags, Quick Reports, Find, and more.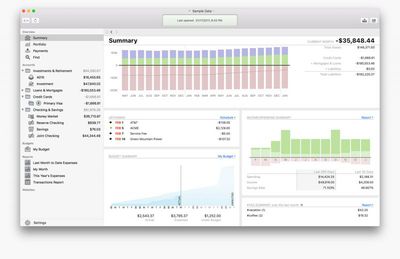 Banktivity 6 introduces Workspace, a new feature that enables customers to view any account, budget, report, or other view side by side. "For example, users can put transactions for an account next to a budget to see how recent spending affects the budget," the company said.
Tags have also been added, allowing individuals and small business owners to see and analyze their income and spending habits across categories. "Now when a person goes on vacation and spends money on dining out, gas, air fare and hotels they can tag all those transactions as a 'vacation,'" said IGG.
A new Quick Reports feature lets users select transactions and then quickly bring up a detailed report based on the selection. "For example, if a customer were wondering how much money was donated to a specific charity last year, a Quick Report answers that question with one click," the company said.


Find is a new document-wide search feature that enables customers to search "almost any part of any transaction" within an entire Banktivity document.
The app's sidebar has a new feature called Portfolio that provides quick access to the performance of investments. Portfolio's customizable view shows high-level information such as cost basis, value, gain/loss, security price, and IRR, and clicking on a security brings up a complete analysis of that holding.
Banktivity 6 features over 100 changes and enhancements, including more flexible report grouping, new transaction editor with improved keyboard support, new reconciliation process, a new summary view, improved transaction downloads, more flexible budgeting, easier in-app navigation, redesigned reports, and more.
IGG said Banktivity 6 will be released in the Spring for $64.99. Users upgrading from Banktivity 5 will qualify for upgrade pricing of $29.99. Customers who purchased Banktivity 5 from the IGG Store between January 23 and Banktivity 6's launch will receive a free registration code to unlock the new version.


The app will sync with Banktivity for iPhone ($9.99) and Banktivity for iPad ($19.99).