IGG Software today announced the launch of iBank 5, the latest version of the popular personal finance app for Mac. iBank 5 adds a number of new features, including support for bill pay through most major U.S. banks, streamlined one-button updating for connected accounts and device syncing, and support for the subscription Direct Access transaction tracking service first introduced in iBank for iPad last year.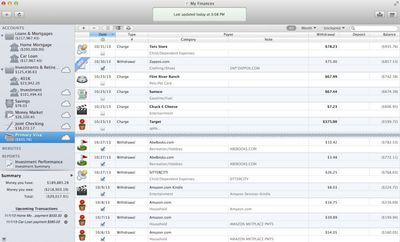 Click for larger
With many significant new features and enhancements in iBank 5, those of interest to both current and future users include:

— Bill pay
iBank 5 will connect to most major U.S. banks from within the app, allowing users to schedule and send payments, track those transactions and categorize the expenses, all with easy in-app set-up and a few simple clicks.

— One-button updating
An Update Everything button on the iBank 5 toolbar imports all transactions from directly connected accounts, syncs devices, updates securities prices, and downloads current Direct Access data. Even users with many accounts, diverse investments and finances in multiple currencies may never have to enter another transaction manually.

— Direct Access
IGG's exclusive subscription service for automatically updating transactions in all accounts was introduced last year with iBank for iPad. Now available in iBank 5, it connects to over 10,000 banks worldwide. In addition, a single Direct Access account allows subscribers to sync that data between iBank 5 for Mac and iBank for iPad 2.

— Smarter budgeting
With a streamlined design that offers daily progress updates at a glance, iBank's new budgets automatically incorporate scheduled transactions such as recurring income and bills. Users can view historic budgets accurately even as adjustments are made to future budgets, and budgets will sync to iBank for iPad 2 as well.

Click for larger
The launch of iBank 5 for Mac comes just a month after the release of version 2 of
iBank for iPad
, which delivered a major interface refresh to adopt the iOS 7 design aesthetic while also adding several new tweaks and features. The pairing of iBank 5 for Mac and iBank for iPad 2 now allows for direct syncing of budgets and reminders between the platforms, while a single Direct Access subscription can be shared between the apps.
iBank 5 for Mac launches today from the IGG online store and is priced at $59.99, with a 30-day free trial available for all users. Current users of iBank 4 may upgrade for $29.99 from within iBank 5. A Mac App Store release for iBank 5 is coming but timing has yet to be announced.
IGG's optional Direct Access subscription service, which offers seamless automatic transaction updating from thousands of financial institutions worldwide, is available for $4.99 per month or $39.99 per year.
iBank for iPad is available from the App Store for $19.99. [Direct Link]