Following the closure of the Apple Watch pop up shop at Selfridges department store in London earlier this month, the shop at Galeries Lafayette in Paris has apparently also shut down, as Apple has removed its entry from the company's list of retail stores.
The closure of the Galeries Lafayette shop this month was rumored back in October, and it leaves the Isetan Shinjuku location in Tokyo as the only remaining Apple Watch pop up shop.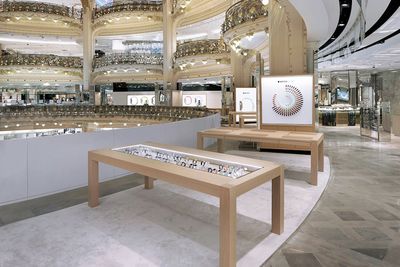 Apple opened the trio of Apple Watch pop up shops in April 2015 at the luxury retailers as part of the company's initial efforts to position the watch as a fashion item, with gold Apple Watch Edition models selling for as much as $17,000.
Apple has since toned down the luxury aspects of Apple Watch marketing, focusing more on health, fitness, and convenience features for the average user. With the launch of Apple Watch Series 2 last September, Apple did away with the luxury gold Edition line, replacing it with new ceramic Edition models topping out at $1,300.