Selfridges Apple Watch Pop Up Shop Shuts Down
Amid rumors that the Galeries Lafayette Apple Watch pop up shop will be shuttered this month, Apple also appears to have shut down its Apple Watch shop at the high-end Selfridges department store in London, England.
The Selfridges retail store listing, which previously showed the Selfridges store front along with store hours and location, has been removed from Apple's website and now redirects to a list of UK stores.
Apple's Selfridges pop up shop was first introduced in 2015 alongside the launch of the Apple Watch. It was located in the iconic Wonder Room, which is a 19,000 square-foot hall that houses a number of luxury jewelry and watch brands.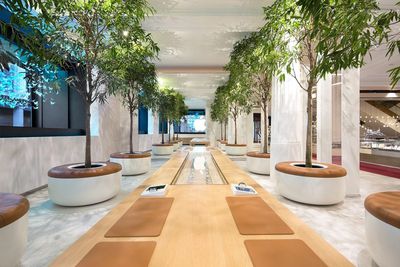 There was no warning that the Selfridges pop up shop would be shut down, but rumors have suggested Apple is planning to close the Galeries Lafayette Apple Watch pop up shop this month due to poor sales.
At this time, the Galeries Lafayette Apple Watch page is still intact, as is the Isetan listing for Apple's luxury pop up shop at the Isetan department store in Tokyo, Japan.
There's no word on whether the Isetan shop is shutting down, but Apple has reportedly been reducing the number of employees at Galeries Lafayette ahead of its closure.
If poor sales are the reason behind the end of the Galeries Lafayette pop up shop, it's likely the Selfridges store suffered from similar problems. Both stores were originally set up to sell the high-end Apple Watch Edition made from 18-karat gold and priced up to $17,000, but Apple discontinued that model in September of 2016, replacing it with the lower-priced ceramic Edition models.